Bold new plans for a multi-billion pound mass transit system linking Leeds with West Yorkshire have been revealed today – and West Leeds could benefit from three stops.
Pudsey, Bramley and Wortley have been earmarked as potential stops on the proposed Leeds to Bradford Line – one of nine lines linking Leeds, Huddersfield, Wakefield, Halifax, Bradford and many more places.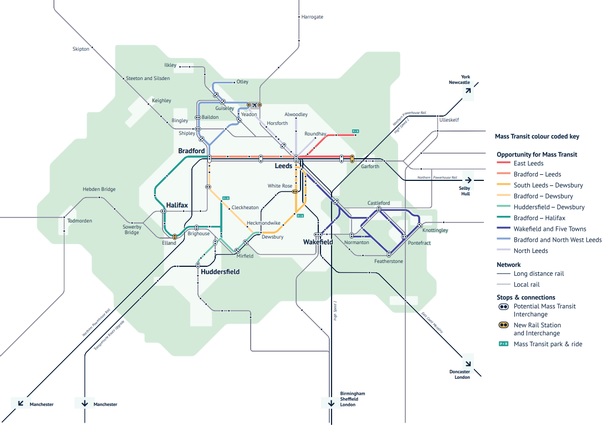 The full list of stops on the Leeds-Bradford line includes:
Bradford Forster Square
Bradford City Centre
Laisterdyke
Pudsey
Bramley
Wortley
Leeds Station
A report from West Yorkshire Combined Authority says:
"Armley and Wortley, close to Leeds city centre, and Laisterdyke, close to Bradford city centre, are priority areas for economic support and regeneration. The communities in the corridor have a number of employment sites including at Stanningley and Gelderd Road.

"Mass Transit would provide frequent, high-capacity local connections between communities within the corridor, and the Bradford Northern Powerhouse Rail (NPR) and Leeds NPR/HS2 stations. Mass Transit would link the areas of high demand and economic need with new employment and housing sites.

"Further investment in facilities for cyclists would build on the success of the Leeds-Bradford Cycle Superhighway. Local cycle connections would enable cycling to be a convenient option to access mass transit systems."
The proposals identify where people will live and work in the coming decades, the journeys they will need to take and how best to connect them through an integrated network including walking and cycling, bus, mass transit and rail.
The West Yorkshire Combined Authority published its Connectivity Infrastructure Plan and Mass Transit Vision 2040 today and is asking people across the region to have their say.
The two documents include further detail on emerging plans for a new West Yorkshire mass transit system and the areas it could serve as part of a wider programme of transport investment over the next 20 years.
What are the aims?
Cllr Susan Hinchcliffe, Chair of the West Yorkshire Combined Authority and Leader of Bradford Council, said ambitious plans are shaped around a 'clean and connected' region that puts walking and cycling at the heart of our everyday journeys. She said:
"If we are going to raise the quality of life for all our communities then we need a transport system that does just that. We have already made progress in addressing the legacy of years of underinvestment in our region but we need to go further.

"We want our region to become renowned for a transport system that others look towards, something that enhances the lives of those who live right here in West Yorkshire and that makes us a magnet for an ever-increasing pool of talent."
Cllr Judith Blake, Leader of Leeds City Council and West Yorkshire Combined Authority Transport Lead, said:
"These proposals set out how our existing plans to invest, our future ambitions and major infrastructure projects including HS2 and Northern Powerhouse Rail come together to deliver the clean, integrated transport system we need to connect our communities to each other and beyond.

"The people of West Yorkshire deserve a transport system that fills them with pride, with optimism and above all with the confidence that our region has a clear direction of travel towards a future that brings prosperity for all."  
Which transport will be used for mass transit system?
That's still to be decided. Current candidates for the type of transport to be used on the mass transit system include:
Advanced bus rapid transit – rubber-tyred vehicles which can run on street with other traffic and on bus-only alignments. A bit like the old number 4 'bendy bus'.
Light rail/tram – Can run on lines on street with other traffic and on segregated alignments, which can be integrated with urban realm and green spaces.
Tram train – Can run on street with other traffic, on segregated alignments like light rail/tram and on the same tracks as trains.
Light Rail/Tram – Can run on street with other traffic and on segregated alignments like light rail/tram.
How will mass transit be funded?
West Yorkshire Combined Authority say Government funding will be needed to complete the system. A spokesperson said:
"Mass Transit is likely to have a high cost, but also deliver substantial benefits to West Yorkshire. It is clear it will require additional Government funding to support its delivery and the West Yorkshire devolution deal provides the region with access to the Government's £4.2bn fund for urban transport and we will be submitting proposals to secure a significant share."
If they get funding, when will mass transit be ready?
The Leeds-Bradford Line is a candidate for being implemented in phase one of the West Yorkshire-wide project. This means work could start as soon as 2025 and be operational before the end of the decade.
Have your say
The Connectivity Infrastructure Plan and the Mass Transit Vision 2040 can be read in full here where you can also comment on the proposals.
Further reading
Check out West Leeds Dispatch's ongoing coverage of the Mass Transit System for our area here.
Please support independent community led journalism in West Leeds…