Food and health champions FoodWise Leeds and Zest delivered an interactive competition for families as part of the #Vegrocks campaign to promote eating and growing vegetables during lockdown.
As part of the Leeds city wide #Vegrocks competition, Whingate Primary School added an additional prize that the school would guarantee would be won by their families. Community reporter Josie Armitage interviewed Miss Carol Newton about the school's success.
Tell me a bit more about the school and life during the Coronavirus lockdown
We are a two-form entry primary school in Armley. Like everyone, the pandemic threw loads of challenges at us, but we are lucky to have a great team of staff who have kept school open for priority groups and running smoothly throughout, as well as working from home to try to keep learning going the children not in school as best we can.
We are also lucky to have really supportive parents and fantastic children who have worked really hard and joined in with the things we have been doing.

How did you get involved with the #Vegrocks campaign and competition?
A friend of mine works for the Zest charity and he passed me the details of the competition as he thought our families might be interested in taking part. We do various things at school to promote healthy habits and so this very much fitted with that, as well being something 'fresh' that families could do with their children that was a bit different.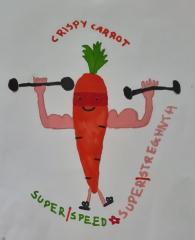 How did you decide to run a school specific competition?
We thought the competition was great, but knew it was a city-wide competition. We wanted to add an additional prize that we could guarantee would be won by our families.
How did Home Veg Box get involved?
I had started ordering fruit and veg boxes from Home Veg Box as I am shielding so cannot go to the shops. I got in touch with them to ask if I could buy an additional box to offer as a prize for the competition. They very kindly offered to sponsor the prize, for which we are very grateful!

How did you decide the winners?
We had loads of entries and they were all brilliant! Everyone had put such a lot of effort in so we decided to do a draw a raffle draw to decide the winner.
Our children are used to this as they earn raffle tickets in school for impressing adults. We pick winners each week during our Star Worker assemblies, so we made a video of the raffle draw and put it on the Star Worker assembly page of our website, alongside the videos and certificates that teachers have been making weekly during lockdown.

I know that TJ was the winner. Were there any other winners?
TJ was a winner of our school prize, but lots of our children were chosen as winners in the overall Zest competition. We are really proud of all the children who entered!
A message from the school
Our school is a wonderful community and we really wanted to maintain that feeling during school closure.
The #Vegrocks worked perfectly for that along with a number of other things we have done to keep in touch with and support our families.
Anyone passing school will see the lovely messages that the children in the priority groups have made, and we have tried to keep in touch with everyone as best we can through our website and app, phone calls and seeing people in person when they come into school to collect our weekly learning packs and food hampers.
Just because school isn't open for everyone in the usual way, doesn't mean that we are not still a brilliant school community.