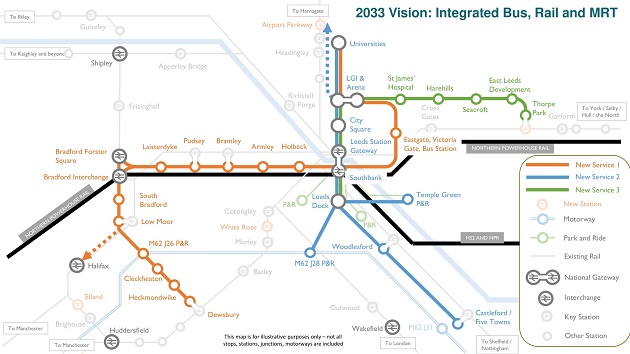 A proposed mass transit system – which could include a route through the heart of West Leeds – may involve new, or yet to emerge, technologies, writes Chris Young.
Three new transport links, which would incorporate mass transit as well as existing public transport, have been proposed by West Yorkshire Combined Authority to connect areas of the region that currently have poor transport links.
The aim is for the network to be up and running by the early 2030s, to tie in with High Speed Rail arriving in West Yorkshire.
At a meeting of the Combined Authority's Bradford District Consultation Sub-Committee yesterday, members were told that the plans were in such an early stage that the type of transport had not yet been decided, although it could incorporate new technologies like battery technologies, hydrogen propulsion and "autonomous innovations".
Members were told the areas chosen for the proposed stations were ones that currently have poor transport links.
One of the lines that will make up the system links Dewsbury to the University area of Leeds, via Bradford city centre. It would include stops in areas not currently linked to rail networks, including Heckmondwike, Cleckheaton, Junction 26 of the M62, "South Bradford" Laisterdyke, Armley and Holbeck.
It would also include stops at existing stations at Low Moor, Bradford Interchange and Bradford Forster Square, Pudsey and Bramley.
Another line would link Castleford with Leeds Dock, the city centre, Leeds Arena and Leeds Universities.
And the third line would link Leeds city centre with Thorpe Park, Harehills and Seacroft, as well as a new housing development in East Leeds.
At yesterday's meeting Tom Gifford from West Yorkshire Combined Authority said:
"This is just about starting the conversation. Nothing is confirmed, this is just about looking at the key areas we need to connect – where are the next big schemes going to be?

"We are talking about five to 20 years down the line, these aren't plans that are going to happen tomorrow. We already have ambitions and targets we want to achieve, including an increase in people walking and cycling and a reduction in car trips by 3.5 per cent.

"We haven't looked at everywhere yet, but we've looked at places that we feel need a really improved transport offer.

"In the East we need links to Thorpe Park, and there are big housing developments. We need to link places like Harehills and Seacroft with big employment zones. The area between Leeds and Bradford has a lot of congestion, and there are a lot of communities where public transport isn't accessible to a lot of people.

"In Heckmondwike and Cleckheaton there is a strong bus service, but there are long journey times on any of the routes into Leeds. We need to improve the transport into big economic centres.
"There are no decisions yet on what route this will be, we're not saying it will follow this road or that road. There is no decision on which transport mode it will be.
"All we're looking at is if these are the right areas, the ones that currently suffer from poor public transport.
"Mass transit might be a part of this, it will all depend on demand.
"Technology has really moved on in the last decade – there is now a range of technology that didn't exist 10 years ago.
"Before we decide what type of transport it will be, we thought let's look at the places that are currently not well connected first."
When he was asked if it would succeed in getting people to ditch their cars, he replied:
"There are a number of things we can do to achieve that – make public transport more affordable, make it quicker, make it more reliable.
"Some people will be willing to give up travelling by car to travel by bus, but some won't.
"Some will be willing to swap travelling by car to travelling by train, some won't. We need to give people that option to encourage them to travel by public transport.
Neale Wallace, head of transport operations at the authority, gave an example of Gothenburg in Sweden as a place were car ownership is high, but where people regularly use public transport. He said "We have to change culture and move people out of cars."
He said some of the links in the map could involve improved walking or cycling routes.
The plan will go out to consultation shortly.
Read more on the West Leeds Dispatch's coverage on the mass transit system here.
____________
We encourage anyone living or working in West Leeds to use this website to tell their news. You can either use our Create an Article page, or e-mail us at news@westleedsdispatch.com.