Words: John Baron
Additional reporting: Richard Beecham, Local Democracy Reporter
Voters in Leeds will be going to the polls on Thursday 6 May to vote for the candidates they want to represent them on Leeds City Council.
This year's election is different, as it coincides with the inaugural West Yorkshire mayoral election, so you'll be asked to cast two votes – one for your local councillor, the other for West Yorkshire Mayor.
The local election was originally scheduled for 7 May 2020, but was delayed for a year due to the Covid-19 pandemic.
There are three councillors in each of the 33 wards across the city, and a vacancy for one councillor in each ward.
Due to the pandemic, voting will take place on Thursday, 6 May 2021, but there will be no overnight verification and vote count as there would be normally. Votes will be verified on Friday 7 May and the count itself is on Saturday 8 May, with results announced throughout the day.
Who can I vote for?
We've approached candidates from each of the six wards West Leeds Dispatch covers to produce statements of up to 300 words on their policies. and views.
You can follow the links below to read more:
Alternatively, enter your postcode below to discover which ward you are in, find a list of candidates' names and your nearest polling station.
The above tool is provided by Democracy Club.
How to find your polling station
More than 70 polling stations across the city have moved to ensure voting can happen with Covid-19 safe measures in place. Check your polling card for details, or alternatively use the above tool by entering your postcode.
What will happen inside polling stations?
Voters are being asked to wear a mask and comply with other safety and social distancing measures. It is anticipated that only limited numbers will be permitted inside polling stations at any one time, which may mean queues.
You do not need to bring your polling card with you to vote.
Current political make-up of Leeds City Council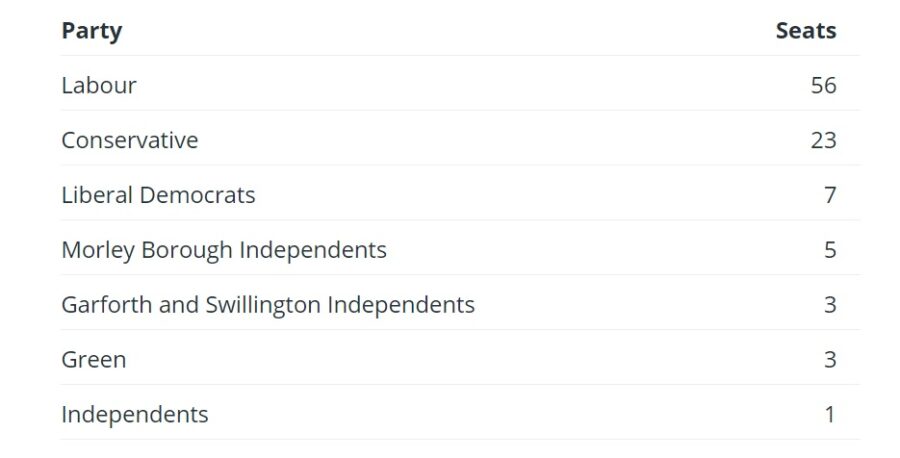 For a working majority, a party must hold at least 50 seats – this effectively means they can take control of the council.
If no one party has overall control, this means an agreement would have to take place between parties to either support a minority administration or to form a coalition.
Following the last local elections in 2019, Leeds's Labour group boasted 57 councillors – seven above the 50 needed for a working majority on the council.
Since 2019 Labour's numbers have been reduced to 54 due to resignations.
This would mean Labour would have to make a net loss of five seats or more in order to be without a majority for the first time since 2010.
However, no other party than Labour could mathematically gain a working majority at this election. For example, the second biggest party on the council is the Conservatives with 23 seats. Even if they took ALL the Labour seats and kept all of their own, they would still only have 42 seats – eight short of a majority, but still five more than Labour.
Conversely, if Labour took ALL the Conservative seats and kept all their own (including the two vacancies in Roundhay), the party would have 64 seats – 14 clear of a majority.
Other parties include the Liberal Democrats with seven councillors, down from eight at 2019 due to the death of Coun Carmel Hall; The Morley Borough independents with five; The Garforth and Swillington Independents with three, and the Greens with three.
How long are councillors elected for?
This year's election involves the second-placed candidate elected for each ward in the 2018 all-out council election. They were granted an initial two-year term.
Following the postponement of last year's local election due to the Coronavirus pandemic, the incumbent councillors' terms were extended for an additional year.
All councillors subsequently elected in 2021 will serve a one-off three-year term instead of the usual four-year term, to retain their original end-of-term date of 2024.
If you're interested in the national data surrounding the local elections in England, you may be interested in reading this Democracy Club article.
WLD's full coverage of the elections in Leeds can be read here.
Local democracy matters. Please support independent, community led journalism in West Leeds…