Voters in Pudsey Ward will go to the polls on Thursday May 6, 2021 for the Leeds City Council elections. Voters will be electing one councillor.
Your West Leeds Dispatch has written to each candidate asking them for a statement of up to 300 words and a head and shoulders photograph to help you decide who to vote for. Here are their responses…
Cynthia May Dowling – Liberal Democrats
11 Woodhall Park Mount, Stanningley, Pudsey, LS28 7HE.
I am a local resident, married with five adult children and four grandchildren, and have lived in Pudsey for the past two years, having moved to Leeds in 1989.
I originally qualified as a nurse, but after being a stay-at home mum I returned to work in varying roles supporting families facing challenging circumstances and encouraging them to engage with services and reach their full potential.
I was very much involved in the local church and in the school my children attended.
Since moving to Pudsey I have left paid employment and now volunteer for a local community group.
I have three immediate priorities for the area:
Provision for families and young people – I am committed to seeing the needs of families and young people met through improved provision of services and the restoration of support for young people in the area.
Protecting the environment and green spaces – In areas such as Fulneck Valley we are seeing the erosion of green space and overdevelopment. I would seek to work with local residents to protect our area for the benefit of the whole community. I fully support the Liberal Democrats' demands for improved recycling and the ending of charges for residents to take DIY rubble to the tip and focus on the fly tipping epidemic which has resulted.
Maintaining local services and facilities – Local facilities such as the Pudsey Park Visitors' Centre and bowling greens are under threat as a result of the spending priorities of Leeds Labour like the city of culture.
As Liberal Democrat councillor in Pudsey, I will work to protect local service provision and ensuring spending is focussed on local services which we need and should expect.
On 6th May vote for Cynthia Dowling – Liberal Democrat for a Cleaner, Greener, Safer Pudsey and Leeds.
Dawn Michelle Seary – Conservative Party
4 Victoria Rise, Pudsey, LS28 7SU.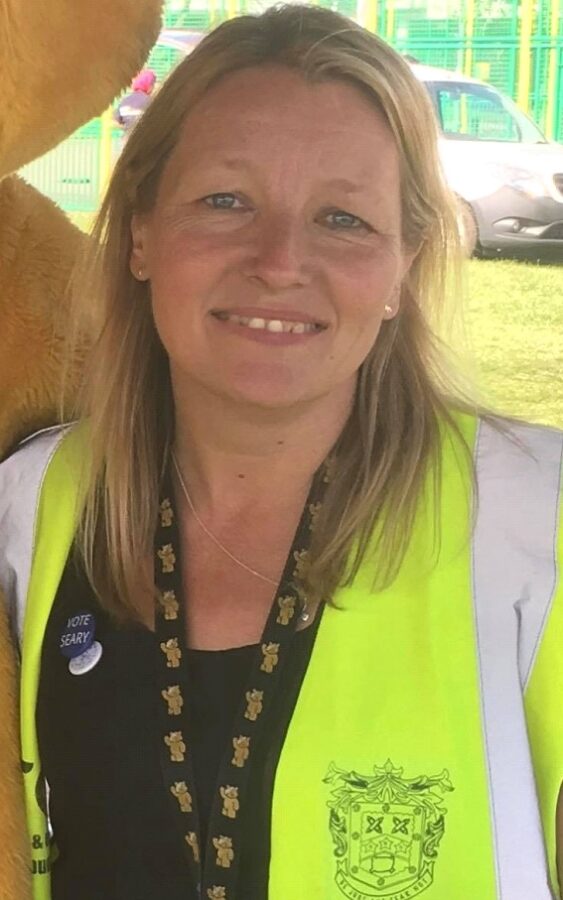 It is an honour to have been selected to represent my home town in these local elections.
I have been working alongside Councillors Trish Smith and Simon Seary for a number of years now and have been involved in the Christmas Lights, Pudsey Carnival, the Monthly Craft Market, the Pudsey 2p Challenge, Friends of Pudsey Cemetery and Chapel, the Friends of Pudsey Park group, Litter Free Pudsey as well as volunteering at Pudsey House with local groups, and I know that while it is important to have these events and groups, it is also important that we get the basics right.
It's about knowing your community and making sure that Pudsey and its residents thrive.
During the pandemic, living locally meant that I was able to work with the councillors and local community to help set up the local hubs in response to the Covid pandemic.
We had things in place very quickly to ensure our most vulnerable were looked after and once the restrictions eased we then set up the Pudsey Computer Project to recycle old laptops so that children could learn from home.
Leeds City Council's plans to close the Pudsey Park Visitor Centre and the loss of our only public toilets is one example why we need someone with a strong local voice to speak up for Pudsey and not toe the political line. I will continue to work hard to make sure my home town is not forgotten by Leeds.
I am always visible, approachable and hardworking – imagine what I can do with an official voice.
300 words is not enough for me to show the difference made so far by me and your Conservative Councillors. Have a look at my Facebook page: Dawn Seary for Pudsey, Swinnow and Tyersal for more information.
Let us keep pushing forward with a strong voice: VOTE Dawn SEARY in this election.
Mark James Sewards – Labour Party
43 Tavistock Mews, Leeds LS12 4DQ.
It would be an honour to be your local councillor. It's been a privilege to speak to so many of you about the issues we face; whether we've spoken on the doorstep, on the phone or over zoom.
As a maths teacher living in West Leeds, I understand the challenges facing ordinary working families and the public services we all rely on. I know I can make a positive difference in our community.
During the pandemic, I continued teaching vulnerable children, delivered food parcels and supported local community groups who've done vital work throughout this crisis. If you elect me as your councillor, I'll go even further.
I want to be the Labour councillor for Pudsey so that I can be a strong voice for our area and use my influence on the ruling Labour Group on Leeds City Council to ensure we get the very best for our community.
At this year's local elections there is a straight choice between a Labour candidate who will stand up for you or the Conservatives who have cut funding to local councils, failed to provide adequate free school meals for vulnerable children and refused to give our NHS heroes a decent pay rise.
I have a bold plan for Pudsey. I will support local businesses to recover from the pandemic and revitalise Pudsey town centre, including reopening Pudsey Town Hall to the public.
Following the closure of Pudsey Park Visitor Centre, which I campaigned to protect, I will continue working with residents to find an alternative use for the centre that benefits the local community.
I also want to reduce fly-tipping and anti-social behaviour and radically improve public transport provision right across Pudsey, Swinnow and Tyersal.
Please vote Labour on Thursday 6 May or when you receive your postal ballot.
https://www.facebook.com/MarkSewardsforPudsey 
Daniel David Jason Walker – Social Democratic Party
45 Rossefield Parade, Leeds LS13 3RN.
Please see our website for more information.
Suzanne Elizabeth Ward – Green Party
Address in Leeds.
I have spent a total of 35 years living locally to Pudsey.
For the past five years I has volunteered for a food waste CLC in Pudsey and over the past year have worked full-time supporting community groups across Leeds by helping to provide vital food during the COVID emergency.
I am passionate about the environment and believe that everyone can play a key part, no matter how small, in working towards a better future.
On a local level I regard supporting small local businesses is key to the long-term survival of towns such as Pudsey, as well as ensuring there is a good public transport network linking Pudsey to the rest of Leeds.
Dan Woodlock – Yorkshire Party
Address in Leeds.
I am standing in this election because I believe Pudsey and Leeds as a whole deserves better than what the Westminster parties offer.
I work in the city centre and see many of the problems every day. If elected my priorities will be:
Protecting green spaces, instead building greener homes on ex industrial sites.
Protecting our streets by deploying more police officers and encouraging more community policing, better street lighting and clamping down on speeding, drunk-driving and uninsured drivers.
Improving local transport, developing more stations and park-and-rides, fighting for lower prices on transport by allowing bus passes to be used during rush hour, using smart tap and pay across West Yorkshire and supporting a mass transit system.
Increasing funding available for independent businesses to rejuvenate the high street following the recent lockdowns.
I will work with local groups and charities to bring about positive change to the area, ensuring that the voice of the community is always part of my decision making rather than listening to party interests. Vote for change on May 6th.
If Bob Buxton is elected Mayor, he will appoint Dan as Deputy Mayor for Policing & Crime, since he is qualified in Criminology and has experience with the British Transport Police.
West Yorkshire mayoral elections
West Yorkshire will also be holding its first elections for an elected mayor.
Here's a list of candidates who are standing.