Here's a round-up of the latest news connected to the Coronavirus pandemic in West Leeds today.
Farnley Academy helps Wortley GPs
A wonderful gesture from both Farnley Academy and Bradford Grammar who made and donated face visors to Hawthorn Surgery in Wortley to keep staff safe!
The surgery also shared extra PPE with local care homes.
It's lovely to see our community coming together at this difficult time!
Sunnybanks Mills work lockdown
Regeneration work at Sunnybank Mills in Farsley has stopped in the lockdown – but bosses are committed to finishing it …
Pudsey Community Project thanks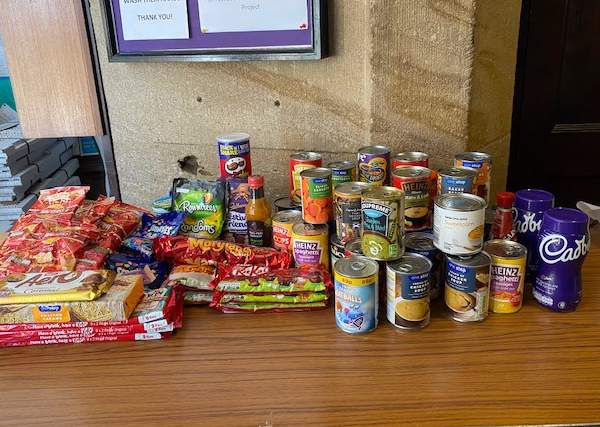 Pudsey One Stop on Galloway Lane has generously donated food and essential items to the Pudsey Community Project, which is feeding hundreds of hungry and vulnerable households during this crisis.
The project said:
"We're grateful for all the food donations we are receiving from individuals and groups (including the significant delivery we had from donors to our Farsley drop off last night!)"
Pudsey drop off is open Monday-Saturday 10am-12pm and Tuesday and Thursday 6-8pm, and also:
Calverley Parish Church: Tuesday and Friday 10am-12pm
Farsley St John's Church Hall: Monday and Thursday 10am-12pm
St James the Great, Woodhall: Wednesday 11am-12pm.
Free food in Bramley
If you, or someone you know, is in need of free food, Bramley Community Centre is open every Wednesday and Friday from 11am until 12pm
The give away is being run by community spirited volunteers from the Bramley Care Bears group and the community centre.
Call Angela on 07805 225 270 to book your five-minute time slot. The time slots are to help with the social distancing rules.
Beautiful Armley
Gotts Park Golf Club have posted this lovely video during lockdown …
Work has been at a standstill during the lockdown. So the Weavers' Yard July deadline has frustratingly slipped away. However, we are committed to finishing it, we owe it to the mills & to everyone who has worked on the project & has supported us. It may just take a while longer! pic.twitter.com/WUHzWYNH8M

— Sunny Bank Mills (@sunnybankmills) April 15, 2020
Swinnow thanks
Volunteers at Swinnow Community Centre still continue to provide pack-up lunches to local children and food parcels and meals to older people, among other things. They've also received many donations:
"We would like to say a massive "Thank You" to the Pudsey Freemasons at the St Laurence Lodge who have given us a very generous donation from the Provincial Grand Master's Fund.

"This will help massively with our work in the community during the current Coronavirus crisis, providing packed lunches to almost 300 children each week day."
Sunflowers at Bramley Baths
Do you fancy getting involved in a bit of Bramley 'sunflowery-ness'?
The idea started at Bramley Community Centre and now Bramley Baths is backing the Solidarity Sunflower campaign to plant a few sunflower seeds in a pot on your windowsill, in the yard, garden, balcony – whatever's available to you.
The Baths is offering a family swim for the under 16 who grows the largest sunflower, and a week's Unlimited Membership pass for the adult.
You can either buy the seeds online if you don't have any, or go to the Sunflower Solidarity Facebook group to find out how you can get hold of seeds.
Garden Groovers in Bramley
🤩Garden Groovers was amazing! Our first with dear friends @DAZL_Leeds and it won't be the last!! Street Dance & youth work. 30 children in Bramley (Social distancing rules applied, groups are siblings) @Child_Leeds @sid132 @SteveWLeeds @SaleemTariq #reducingisolation #getactive pic.twitter.com/fQPYdtOjpZ

— Barca (@BARCALeeds) April 22, 2020