The 'guardian' of a Little Free Library in Armley has been thanked for her dedication and community spirit.
Lola Wilson is the driving force behind the Armley Ridge Road Leeds Little Free Library, and an active supporter of Meeting Point Leeds, which offers practical and emotional support for refugees and asylum seekers at Christ Church in Armley.
Lola is the latest person to be nominated as a 'Good Egg' following WLD's appeal for readers to nominate and publicly thank selfless people who go the extra mile in their community without recognition.
Lola was nominated for recognition anonymously by someone who has benefited from her community spirit and kindness. Praising Lola's commitment, they said:
"Lola has been the lovely 'guardian' and driving force behind the Little free Library in Armley Ridge Road, where people can go and borrow books or donate them. Most recently she successfully appealed for more children's books to be donated, which makes a real difference to families who might not otherwise have much access to kids' books.

"Her thoughtfulness makes such a difference to people.

"She's an active supporter of Meeting Point Leeds and is also the founder and current writer/editor of Leeds Love Affair, a website that promotes independent and not-for-profit businesses in Leeds city centre and produced the first-ever independent Leeds business awards in 2014.

"She does lots more too. I just think she deserves some thanks and recognition as she's a real inspiration."
Your chance to say 'thank you' to someone for making a difference in West Leeds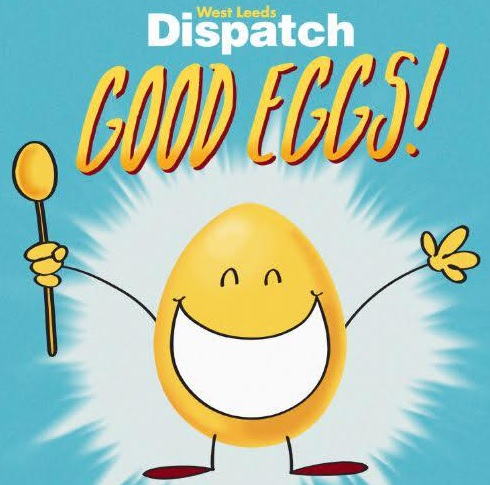 'Good Eggs' don't have to be a lifesaver – they could be someone who does the little (but important) things in life, like doing the shopping for an elderly neighbour who can't get out.
Nominees could range from someone who picks up litter in streets, works tirelessly as part of a local community group, or volunteers their time to make a difference where they live without wanting anything in return. In fact, anything that shows generosity of spirit!
Nominating someone couldn't be easier…
Simply drop us an e-mail – at news@westleedsdispatch.com – providing us with the name of the person you'd like to thank publicly and some reasons why you'd like to nominate them.
Please include your own telephone number so we can contact you.
Please support independent community led media in West Leeds…