A Pudsey litter-picking hero and a 'fairy godmother' who works tirelessly in the town are the latest 'Good Eggs' to be thanked for their contributions to the community.
Both James Crabtree and Lisa Farrar have been nominated as a 'Good Egg' following WLD's appeal for readers to publicly thank selfless people who go the extra mile in their community without recognition.
They were nominated by Pudsey resident Dawn Seary. On James Crabtree, she said:
"James started by litterpicking in Pudsey with his kids, and then took over the Litter Free Pudsey Facebook group, swelling the number of litterpickers with his infectious enthusiasm and 'can-do' attitude.

"James has plans, Covid permitting, to use this platform to get the Litter Free Pudsey message out to schools to promote his litter-free message. His community spirit and tireless work ethic is wonderful to see."
Lisa Farrar is a previous recipient of 'Good Egg' award back in 2018 – but she hasn't rested on her laurels. Dawn said:
"She has continued and blossomed into Pudsey's very own fairy godmother. She tidies areas of Pudsey in need of some TLC, she re-paints unsightly electric/telephone box, weeds and clips overgrown shrubbery.

"She also heads a Facebook group of Pudsey knitters, who are responsible for the amazing remembrance poppy displays and, at the end of last year, the 18ft knitted Christmas tree and festive wreaths on lampposts.

"Recently she has helping to fundraise for a Pudsey natter bench. Pudsey is all the better for having Lisa."
Your chance to say 'thank you' to someone for making a difference in West Leeds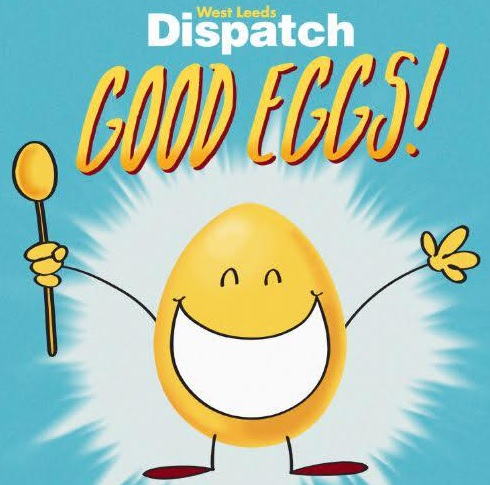 'Good Eggs' don't have to be a lifesaver – they could be someone who does the little (but important) things in life, like doing the shopping for an elderly neighbour who can't get out.
Nominees could range from someone who picks up litter in streets, works tirelessly as part of a local community group, or volunteers their time to make a difference where they live without wanting anything in return. In fact, anything that shows generosity of spirit!
Nominating someone couldn't be easier…
Simply drop us an e-mail – at news@westleedsdispatch.com – providing us with the name of the person you'd like to thank publicly and some reasons why you'd like to nominate them.
Please include your own telephone number so we can contact you.