By Liam O'Sullivan
The current cost of living crisis is affecting millions across the country, and Butcher Hill Community Pantry is expecting a high number of customers in the coming months as a result.
The pantry helps residents of Horsforth, Kirkstall and Burley to buy their groceries at an affordable price, and is based at St Andrew's Church, off Old Oak Drive.
They give customers an opportunity to buy groceries that may be worth up to £30 for a £1 joining on fee, and then £3.50 a week, allowing them to purchase at least 10 items.
The Butcher Hill Community Food Pantry opened a year ago as a partnership between Horsforth Community Assets Project (HCAP) and Kirkstall Valley Development Trust (KVDT), supporting residents in Horsforth and Kirkstall wards.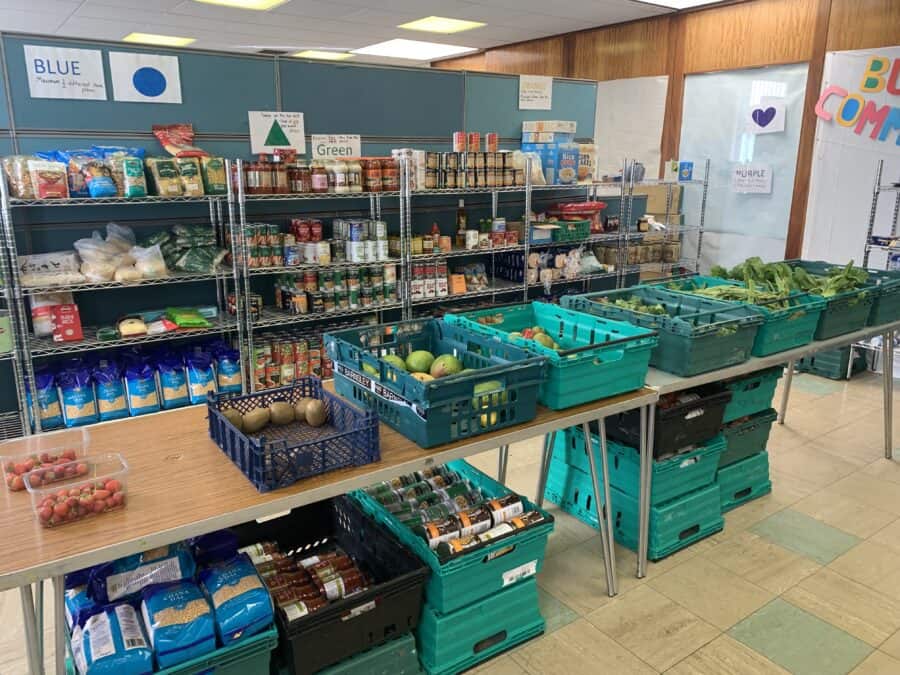 One pantry regular, who asked not to be named, said: "It's a lifeline for me. I've never known times like this. I've always been good at budgeting and stuff and I work part-time because I have kids, but I'm already terrified to switch on the heating on an evening. Without this place my family would really struggle."
Martin Knox, a volunteer at Butcher Hill, said: "My job is greeting people when they come in and just making them feel welcome. You want people to feel comfortable when it comes to something like this, particularly when it's the first time they come in because they're admitting to themselves that they need some help, and that's not easy to do.
"We try to make it as easy as possible by just chatting away, and after two or three weeks they're coming in and they're joking around and stuff like that, which makes the business a lot better. It shouldn't be rigid, it's a friendly environment."
But with the UK inflation rate at the highest it's been since 1982, the amount of people needing to use food banks and food pantries like Butcher Hill will inevitably increase. Butcher Hill are currently open two days a week, but with the current economic climate, this may need to change.
Martin said: "We're open Wednesdays and Thursdays at the moment, but we've noticed lately that more and more people are signing up with us so we're probably either going to have to extend the times that we open or even go to opening for another day. We'll just have to see how it goes.
"Numbers are going up steadily and we can only see that continuing the way things are going. A lot of it is through word of mouth from people who are members telling their neighbours what's going on here.
"In the past couple of weeks, we've had quite a few requests to join. That's another reason why we may end up having to do another day, because they get a 15-minute slot to purchase their items, but by the time they've come in and had a drink and stuff like that, the time runs down a bit, so I think certainly before Christmas I'd imagine we'll open for another day."
The pantry not only acts as a provider of essential groceries, but also a community hub where users can socialise and have an enjoyable experience. Martin added: "It's not exactly a social event, but it also is. People come for a reason, but the reason's not always just to get some food, it might be to get some company because some might be on their own.
"We have a laugh and a joke and a cup of tea and some biscuits and things like that. They don't have to rush out either. Some people are here for a couple of hours, and that possibly might become more frequent.
"It's rewarding as well, I mean people who come in as customers pretty soon become friends. Again, I think it's that sort of atmosphere we have here."
During the pandemic, Martin was asked by the council to help provide food to the community, where he then spent a year and a half delivering food parcels to people, and since then has thrived on helping the community as much as possible.
Outside of the Butcher Hill Community Pantry, Martin, who is a board member of KVDT, is keen to ensure people are supported through the current energy crisis. As WLD reported last week, KVDT are moving into St Stephen's Church Hall on Kirkstall Road where they will become a 'Warm Space' in the winter months, providing food and space for the local community.
The pantry is open from 11.30am to 3pm on Wednesdays, and from 9am to 1pm on Thursdays.
For more information on the pantry, contact 07990 119116 or e-mail butcherhillcommunitypantry@outlook.com. You can also fill in an application form here.
Sponsored content