By Jean Hollings
If you go down to Bramley Park you will notice a new bright and colourful addition to the changing room wall. 
It was designed by graphic artist Ben Holden and was inspired by the beautiful stained-glass window at Bramley Baths. The artwork was originally designed as a postcard/flyer to promote the project to local residents.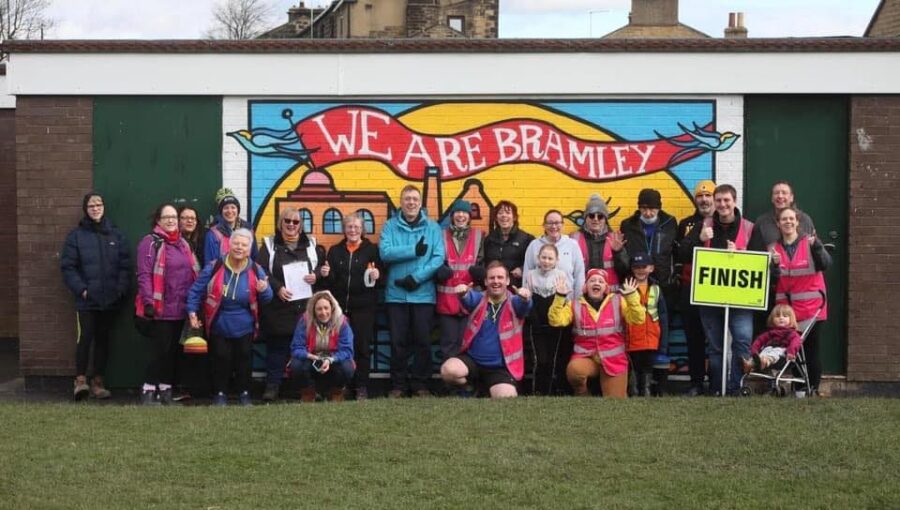 The design was shared on the We are Bramley Facebook group, where a member suggested it would look great as a mural on the changing rooms in Bramley Park.
The project – as reported by WLD last month – was to bring people in Bramley to talk about culture and acts of defiance as part of Leeds 2023: My World, My City, My Neighbourhood.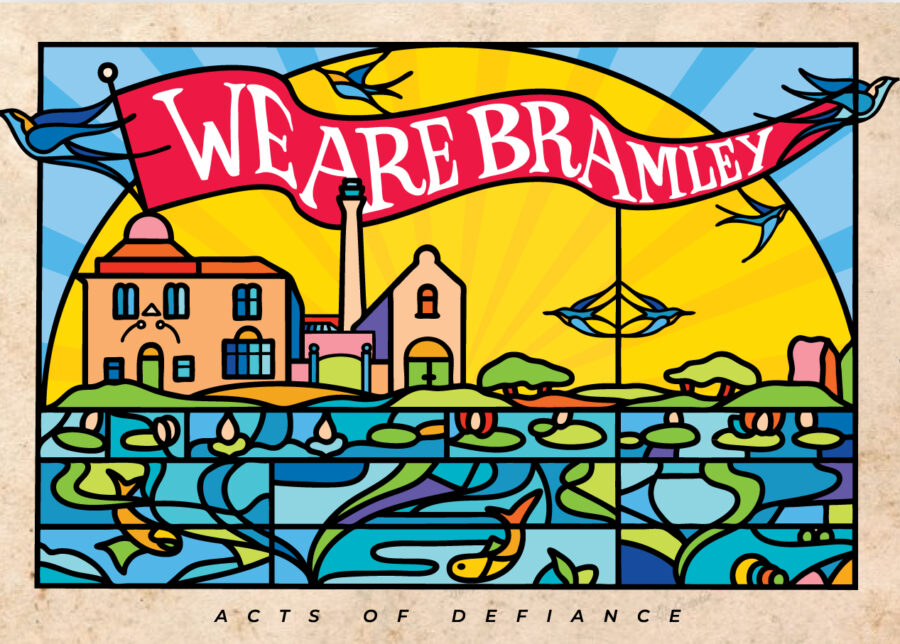 With help and support from the Bramley ward councillors and Leeds 2023 the mural 'We are Bramley' was commissioned. It was designed and created by artists Ben Holden, Dominic Comms and Jameson Rogan.
Here's a timelapse of the making of the #WeareBramley mural in Bramley park massive thanks to @bjthebear JamesonRogan & Dom for working so hard to make it happen! @kevin_ritchie1 @bramleybaths @BARCALeeds @LEEDS_2023 @WLDispatch @yorkshirepost @LeedsNews #Bramley pic.twitter.com/rfCjgPsMRB

— Yorks Life Aquatic (@YorksLifeAqua) March 13, 2022
It was finished on Friday, 11 March after a very long day's work for the artists. Since then, it has been getting a lot of attention with many people posing in front of it for photos, including the Bramley parkrunners (both Saturday and Sunday events) and it looks stunning. 
Unfortunately the mural attracted the wrong type of attention and within the week it had been daubed with graffiti. The people of Bramley have already taken the mural to its heart and the damage was immediately corrected.
Organisers are trying to find out who they need to contact so they can fundraise to have anti-vandal lacquer applied to protect it or if Leeds council will pay!