Words: Michelle Corns
Photos: Philip McConnell
Sitting protesters at the Bramley Shopping Centre were joined by chair-based exercise tutor Susan Cunningham on Saturday.
Chair-based exercise is a way for people who cannot stand or walk for long periods of time. It is recommended by the British Heart Foundation, who suggest that even a little exercise can be beneficial for those who can't take part in regular exercise.
They suggest the exercise can enhance physical and mental wellbeing, by keeping the spine supple and maintaining flexibility, whilst toning and strengthening muscles.
#Bramley at its best yet again. Out again, protesting for the return of the 22 benches removed from Bramley Shopping Centre by owners @LCP_Group. And showing them that we are not giving in any time soon ✊ https://t.co/G2L3humgA8

— aplacetosit (@aplacetosit1) November 20, 2021
The sit-down protests at Bramley Shopping Centre have come in response to the removal of the 22 benches by the new owners LCP back in June. LCP initially declared that the benches were an obstruction on footpaths.
As West Leeds Dispatch reported, campaigners argue the benches were conveniently placed for centre visitors to rest in between shopping and were invaluable for the elderly and people with mobility problems.
The group attracted widespread media attention in August when 60 people, including local families and political figures, joined an hour-long protest.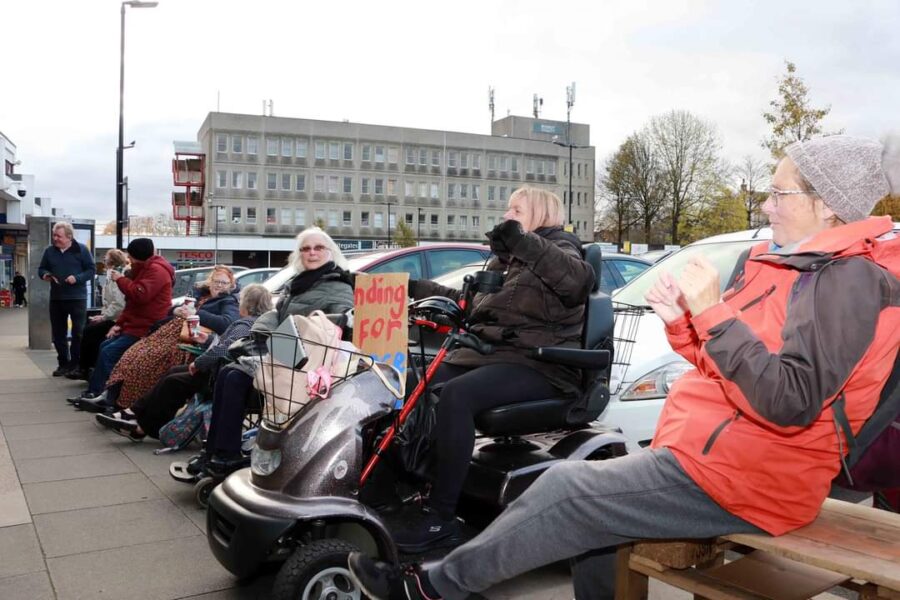 A number of protesters have been turning up on a weekly basis for the past five months and the sit-ins are lively but friendly. The protests attract 15-20 people who attend either in fold-up chairs, wheelchairs and garden benches or home-made benches.
"It's inspiring to meet protesters and I fully understand and support their reasons for protesting," said Susan, who lives in Farsley.
She teaches chair-based exercise across the city, but suggested the benches were a life-line for many visitors to the busy shopping centre. She added:
"As a chair-based exercise instructor, I have supported many elderly groups across the city. I see that social interaction of a bench is needed… a rest, a chat with a friend or a stranger, somewhere to have a cuppa, etc."
Susan explains the benefit of bringing the chair-based exercises to the protesters: "It provided a lively atmosphere, keeping everyone warm while they sat out in the cold weather."
In response to the protests in summer, the management has eventually reinstalled eight benches, but protesters say they are in an inconvenient location, rather than in the main shopping area, leaving people dissatisfied with the 'solution.'
Meanwhile, the part-time sit-in continues every Saturday morning at 10am.
Members of Bramley St Peter's school council last week met with Bramley & Stannignley councillors Kevin Ritchie and Caroline Gruen to present their petition backing the A Place to Sit campaign.