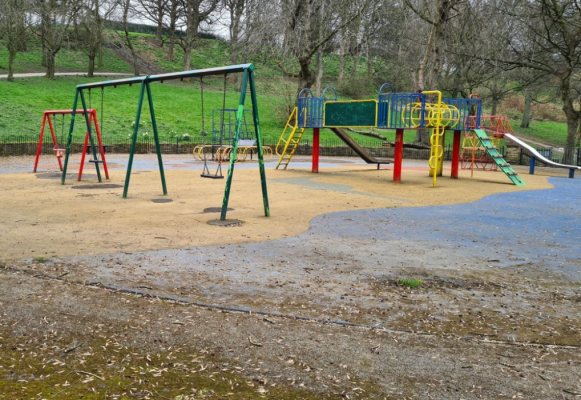 By John Baron.
Additional reporting: Katherine Turner
Park users are being asked for their opinions on where the new playground at Western Flatts Park in Wortley should be based.
A public consultation has been launched into £196,000 scheme for a new play area to replace the existing run-down facilities.
Local residents have been campaigning for a new play area for many years, with more than 1,000 people signing a petition demanding improvements in 2021.
A council spokesperson said: "Leeds City Council are installing a new play area at Western Flatts Park and would like some input from the community about which is the best location within the park for it to be situated and what games people would like to see included in the play area.
"The current play area location was not considered a viable option for the new play area. This is primarily due to the high additional maintenance costs caused by sap from the surrounding trees affecting the equipment and safety surface. The current location would also limit the number and type of play equipment activities due to space restrictions."
Two potential locations – at the top and bottom of the park – both include a gated toddler play area and open junior play area, with both options featuring the same play equipment. The move follows local concerns about the play area and work by volunteers from the Friends of Western Flatts Park group and local councillors.
Leysholme Crescent resident Andrew Jessop welcomed the proposals and said: "This is fantastic news for children and parents alike in the LS12 area. However the positioning of the playground is key to its success. I believe that it should be placed near to the current parking areas at the elevated area of the park. 
"The lower area – where the current  playground is – is difficult to get to and monitor if you have a vehicle, similarly the lower area of the park is dark and damp due to the amount of mature trees around it. Keeping the play area light and cared for will ensure a more accessible and cleaner play area."
People living near to the park have been contacted for their views and there is an online questionnaire here. The consultation will conclude on Friday 13 October.
Work on the new play area is due to start in the autumn and will be undertaken by council's contractual provider of play equipment, Kompan, and be overseen by the council's parks department. The work is funded through Section 106 money secured from the developers of new housing at the former Wortley High School site.
Sponsored content