Work has started to plant thousands of trees at the site of a new flood storage area to help reduce the risk of flooding from the River Aire in the Kirkstall Valley and beyond.
A group of volunteers planted the first 1,000 trees in the area surrounding the Leeds Flood Alleviation Scheme Phase 2 (FAS2) flood storage area near Calverley, between the Horsforth Vale housing development and Cragg Wood.
The newly planted whips were grown from seed at Leeds City Council's plant nursery, The Arium, and are part of the scheme's commitment to the environment and water quality.
Council chiefs say they will provide habitat for local wildlife and capture carbon to help combat the climate emergency. The trees also form part of the commitment from the Leeds FAS2 scheme to replace any necessary tree removals on a three to one ratio.
The volunteers from the Leeds FAS2 team were joined by members of Leeds City Council, and staff members from SFS – one of the hundreds of businesses who will be protected from flooding by the Leeds FAS2 scheme.
The SFS Leeds site is situated off Kirkstall Road in Burley and has had a sheet piled flood defence wall with access ramp successfully installed. Alongside providing several volunteers to plant trees on the day, they also made a donation towards the 1,000 whips.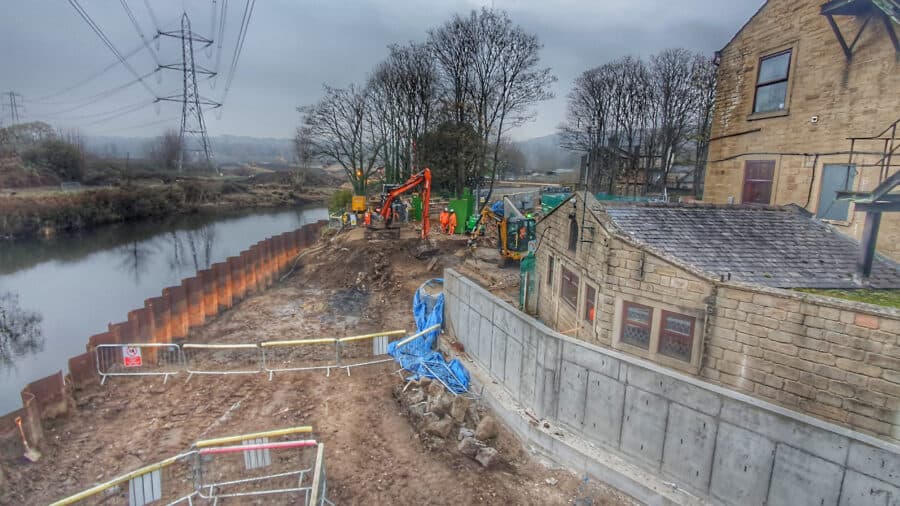 Leeds City Council executive member for infrastructure and climate, Councillor Helen Hayden said: "The Leeds Flood Alleviation Scheme is vital for Leeds. When it is finished it will increase flood resilience for people who live, work, or travel through Leeds to an exceptional level.
"Once all of the trees here have established, we will have created an entire woodland area here in West Leeds – one that will provide habitat to animals and help to clean our air."
SFS managing director, David Wigglesworth said: "As a business that has been employing local people here in Leeds for over 130 years, we felt first-hand the effects of the flooding back in 2015 and the impact it has on an organisation and its employees.  
"These new flood defences will help to secure the future of our business and workforce while providing a legacy for future generations. At SFS it is important that we play our part, and we are delighted to be working in collaboration with BAM and Leeds City Council to replant trees in the surrounding area."
Leeds FAS2 is due to complete in winter 2023.The scheme is using a combination of engineered and natural methods to protect 1,048 homes, 474 businesses and key infrastructure along a 14km stretch from Leeds City Station, through Burley and Kirkstall, to Apperley Bridge.  
Once complete, the scheme will reduce the risk of flooding to a 0.5% chance of occurring in any given year – this means protection against a one-in-200-year flooding event – similar to storm Eva in 2015. The area in Leeds city centre currently protected by Leeds FAS1 will also have its level of protection upgraded to the same standard.
WLD reported this week that the costs of the FAS2 scheme had increased by £12.5m due to inflation.