The multi-million pound regeneration of Sunny Bank Mills is widely regarded as helping to put Farsley on the map. WLD editor John Baron met co-owner John Gaunt to talk about how the regeneration of the former textiles mill has gone so far – and about ambitious plans for the future.
The first thing that strikes you about John Gaunt (apart from the hi-viz jacket which demonstrates how hands-on he is around the former mill complex) is just how friendly and supportive he is.
It's a humble disposition which seems to run through the very ethos that underpins Sunny Bank Mills, which now houses and supports a multitude of diverse businesses, creatives and artists, between them employing well over 350 people.
"I'm always amazed at the faith people have put in us, and the trust they have in us to provide a home for their businesses and livelihoods." John says, reflecting how the development started with fewer than 20 people on the site.
There are now 98 businesses, makers and organisations at the cultural and business hub, employing over 350 people. John adds: "We have room for double that. We have ambitions for 600-700 people working here.
"People look at what we've achieved with the site so far, but we are in no way finished – we're probably only half-way there in terms of what we want to achieve.
"It's a process we're going through in different waves and it's a fluid process."
As well as a destination for businesses, creatives and the city's arts fraternity, the site houses placed to eat – and he already has plans for one of the disused buildings which he says would make an ideal restaurant.
John owns Sunny Bank Mills with cousin William and it's remarkable to think it's about 14 years since they first set about transforming their family business with more than 150 years of weaving history into a successful mill re-development.
The duo are the sixth generation of the family business, which made its name on a worldwide platform as a high-quality textiles manufacturer. Weaving first began at Sunny Bank Mills in Farsley in 1829, and Harry Gaunt bought the premises in 1917.
"It's always been a case of adapting to needs and finding the right markets," says John. "In reality it's a never-ending project. Sunny Bank Mills had 150 years of textiles, and we feel that history and it is incumbent on us to ensure that the future here is sustainable.
"The community around us seem to approve and they've really bought into the idea of a 'new' mill, which is a nod to the past, but also with an eye to the future. Our masterplan allows us to be flexible in our cultural and commercial regeneration."
In the meantime there are plans to announce four new lettings in the Twisting Gallery, something which brings much satisfaction to John.
"In 2008 we made a decision to keep investing here," he says. "If I were a retailer I would say 'they are spending £1 million a year' and that would give me confidence us a business. We only use high quality fittings as we're looking forward to the next 20 to 50 years and for longevity.
"We no longer want to be a hidden gem, tucked away in Farsley, we want to be a visible gem. It's great if that brings more businesses and more people to live in Farsley."
John says the day the council approved the masterplan for the site would be something that would live long in his memory.
"I have had proud memories on a small scale every single year since we started this project," John says in response to the question of what he's most proud of. "We are sitting in an area we now use for exhibitions, but it was something completely different 100 years ago. To transform it into something modern, but with character…. every time it happens it is unbelievable."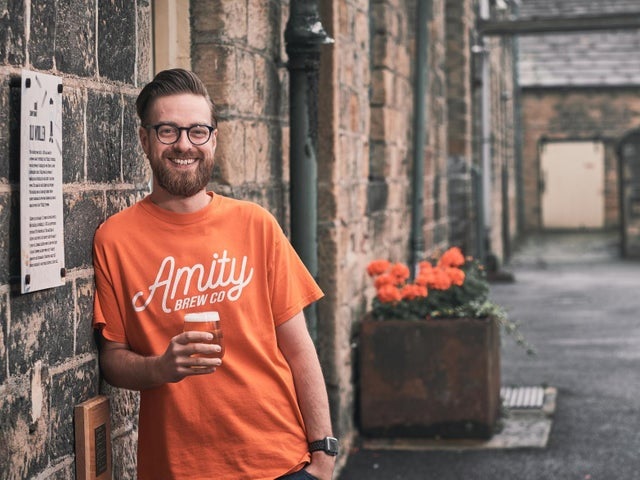 Covid was a massive challenge for Sunny Bank Mills – as it was for everyone – but in the main tenants and the mill successfully adapted to online business models. He said the pandemic came at the time when they were working on the £2 million Weaver's Yard scheme which 'was always going to give us financial indigestion'.
"We embarked on an exciting new stage by selectively demolishing some commercially unviable buildings, totalling 65,000 sq ft, in the heart of the site," John explained. "It was our biggest and most ambitious exciting development yet.
"It allowed us to restore and develop some of the most important buildings at Sunny Banks Mills, such as the Old Woollen Mill, the oldest building on site, dating back to 1829. It was hemmed in on all sides. This will enable us to restore other buildings on site.
"It also transformed the visibility, accessibility and parking at Sunny Bank Mills, while retaining the sense of history with pockets of mill yards and easily identifiable landmark buildings of a 19th century textile mill. Importantly, Weavers' Yard features 5,000 sq ft of green space at the heart of the mill, effectively creating an amphitheatre that will be used for outdoor performances and break-out space for the occupiers, tenants and visitors of Sunny Bank Mills."
John and William wanted to attract people to use the mill building – part of which had also been used as a film set for both Emmerdale and Heartbeat – for mixed business and community use.
"The opportunity to develop the mill was just too good to miss. We had a real vision of re-claiming the employment that had been lost on the site," added John. "we're here for the long term and very much have a vision and masterplan we want to take forward in the coming years."
Sponsored content