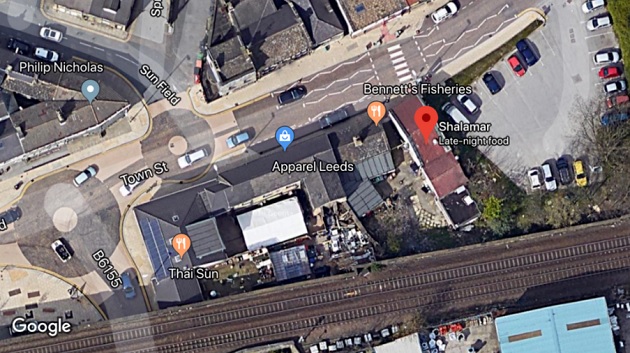 Plans have been submitted for six one-bedroomed, self-contained "starter" flats to be built on Stanningley's Town Street, writes Keely Bannister.
The flats would be created by adapting current living and storage space and building two new extensions – a first floor extension at Shalamar restaurant and a two-storey rear extension at Bennetts Fisheries next door.
Neither business will be affected by the development other than a small loss of some 12.9 square metres of floor space.
The applicant – named on the application form as Mr Jay Nawaz from Bradford with MAS Design Consultants of Guiseley listed as agents – states the flats will be aimed at the "starter" market: affordable housing for people looking to get onto the housing market.
Minimum floor space of the flats as set out by Government guidance will be exceeded and rooflights will be added to the buildings to give more natural light for occupants.
No on-site parking is to be provided as part of the development. A document submitted as part of the application gives this brief explanation:

"The development will be served off Town Street by a pedestrian and cycle access. Given the constraints of the site and that the reasonable likelihood of car ownership being low given the tenure attraction [flats being aimed at the "starter" market] to the accommodation proposed as well as the existing public transport routes with buses and rail opportunities in close proximity no on-site parking is proposed.

"The site is within a local centre with excellent amenities and public transport routes running to and from the City Centre and Pudsey Town Centre.

"This is considered to mitigate for the absence of on-street parking as the site sites within a highly sustainable location.

"The proposal offers cycle parking facilities in order to further accord with sustainable transport principles."

You can view and comment on the details of the development here.
____________
Local news is in crisis. Can you help?
These are challenging times for local news providers – and producing your daily dose of West Leeds Dispatch comes at a cost!
We're a small, community-led news organisation which needs your support to keep delivering quality journalism. We want to continue to maintain our openness and protect our precious independence – and above all to connect people with what's happening in their part of West Leeds. Every reader contribution, big or small, helps us to do that.
For as little as £4 a month (£1 a week) you can support us – and it only takes a minute.
Or set up a standing order with your bank: Contact us on Paywestleedsdispatch@gmail.com if you'd like to do this.
Your support will make a difference. Thank you.