A West Leeds social enterprise which has made its names recycling unwanted paint may be about to extend its offering – by reducing plastic waste.
Seagulls, off Kirkstall Road, are in the early stages of considering setting up a refill shop for plastic cartons, offering things like washing up liquid, detergent, soap and shower gel to save plastic.
The social enterprise has posted its idea on Facebook:
"So who else is sick of just buying yet more washing up liquid bottles, clothes washing detergent, soap, shower gel etc? We're hoping to start a refill shop at our base on Kirkstall Road. we're open seven days a week between 10am-4pm, so accessible. Thoughts and opinions wanted please."
The idea has been met with a positive repsonse on social media, with hundreds of comments of support. One customer said:
"That would be fantastic! There's a couple in town, but with the parking and what have you, this would be much easier to get to – count me in!"
Seagulls is an environmental social enterprise which practises and promotes the reuse of leftover and unwanted paint to create opportunities for local people.
Armley Town Street mural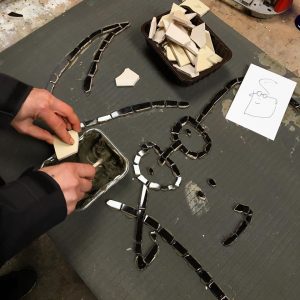 Seagulls, meanwhile, are continuing their work on putting together a mural on Armley Town Street.
Armley-born playwright, screenwriter, actor and author Alan Bennett has provided one of his 'face doodles' and a hand written quote. The mural will be on the side of Skelton's Butchers on Armley Town Street. Mr Bennett's dad was also a butcher.
Seagulls has two paint stores in Leeds and runs community arts project Seagulls Mosaic.