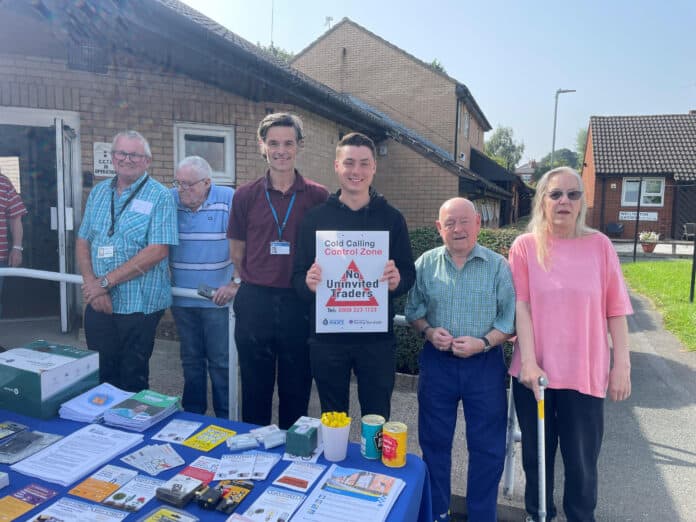 A scheme to stop doorstep traders and rogue traders targeting vulnerable people in Bramley has been launched.
Officers from West Yorkshire Police and West Yorkshire Trading Standards came together to implement a Cold Calling Control Zone in Wellington Gardens yesterday (Wednesday, 6 September).
The zone is funded by the Bramley & Stanningley Councillors Kevin Ritchie, Tom Hinchcliffe and Caroline Gruen and has been introduced as a result of the residents being targeted by doorstep criminals.
Officers distributed door/window stickers to residents that say 'NO' to doorstep traders and signs were erected at the entrances to warn traders that they are entering a zone.
Over the years West Yorkshire Trading Standards has implemented over 300 zones to combat rogue traders and doorstep criminals.
Linda Davis, West Yorkshire Trading Standards Manager said: "These zones are implemented to deter rogue traders and/or doorstep criminals who prey on the elderly and vulnerable.
"Not only are the zones a tool to say 'NO' to cold callers but they also promote community cohesion so I urge residents to look out for their elderly vulnerable neighbours and report suspicious cold callers."
Michael Cox from West Yorkshire Police said: "A number of criminals do pose as doorstep salespeople and bogus utility company officials and the implementation of these 'Cold Calling Control Zones' helps to raise awareness over the type of tactics often employed by doorstep criminals."
Councillor Kevin Ritchie (Lab, Bramley & Stanningley) added: "It's great to see partnerships such as this are contributing towards protecting residents but householders can do much more themselves by not contracting with unsolicited doorstep traders and searching for reputable traders instead."
People can report suspicious cold callers to West Yorkshire Trading Standards via the Citizens Advice Helpline 0808 223 1133. 
Further information on Cold Calling Control Zones here.
If you are looking for a reputable trader then visit the Leeds Directory website where you can find a list of vetted traders.
Sponsored content