By Leeds West MP, Rachel Reeves
Omicron is a new and increasing threat on top of the existing variants of the virus. Unfortunately, I tested positive for COVID and so was unable to vote in the House of Commons on 14 December.
If I could have been there, I would have voted in support of the new restrictions put forward by the Government because I believe it is in all of our interests to slow the spread of this virus and ease the burden on our NHS.
Vaccines continue to be the most important tool we have in the fight against the pandemic.
A lot about this new variant is still unknown, and we are sadly seeing record numbers of cases, and the potential for the NHS to be overwhelmed. I strongly urge all of you get your vaccine and booster jabs whenever possible if you haven't already, and I thank you for keeping to the rules to help us all stay safe and well this Christmas and beyond.
I know a lot of constituents will be angry about the revelations regarding what happened in Downing Street during the lockdowns.
I share that anger – and am deeply disappointed – that the rules were ignored while we in Leeds West did everything we could to keep our friends and family safe, and to protect our NHS.
Despite their behaviour, I know that many will continue to do the right thing now, and continue to protect our NHS and take precautions to stop the spread of Omicron.
Visiting St George's Crypt
It was a pleasure to visit St George's Crypt's new housing development, Don Robins House, with Tracy Brabin and Alison Lowe.
I met with one of the residents, Marjorie, who told her story about how she had ended up living in Don Robins House and how grateful she was to the Crypt for providing her with a home.
She said it was like one big family, and I could see that from visiting the community there.
Another of the residents was developing his baking skills and made me an excellent cake which I enjoyed later on in the afternoon! It is great to hear more about the fantastic work the Crypt does, and I am proud to support their work.
My Christmas card winner
I was delighted to be able to award Maya, of Valley View Primary School, her prizes for winning my annual Christmas card competition! The robin she drew was fantastic and stole the hearts of all of my team.
We were able to combine the prize-giving with turning on the lights together at Kirkstall Forge's Christmas Fair, and it was great to be able to celebrate the beginnings of Christmas, support the small businesses there and get into the festive spirit.
Well done to all involved, and to Maya for winning my competition! Thank you also to CEG for sponsoring my Christmas cards once again this year.
Visit to Armley Park Primary School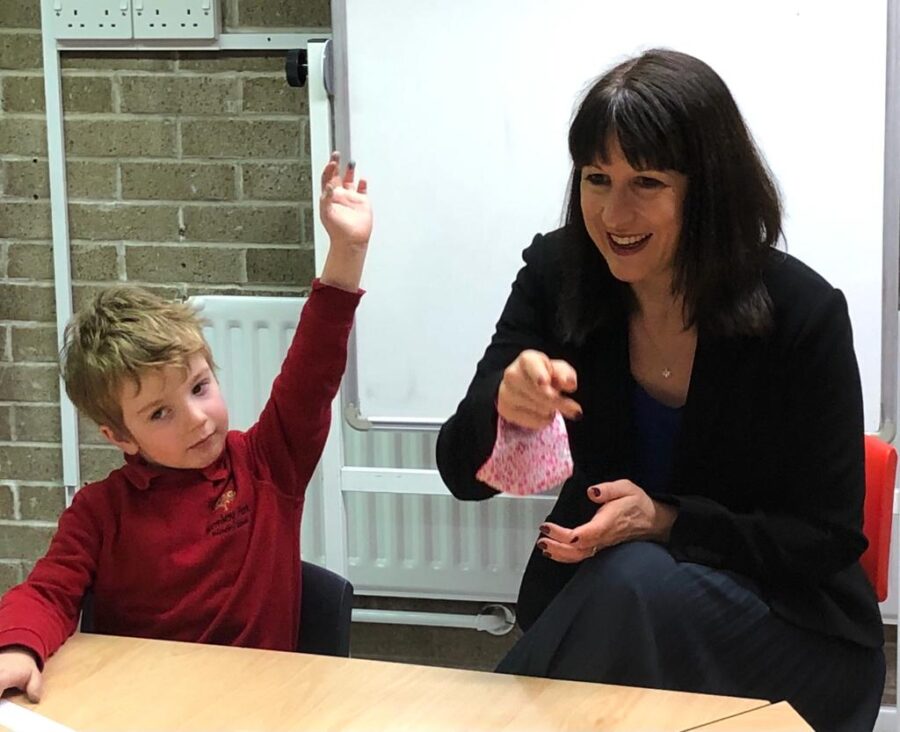 One of my favourite parts of my job is visiting schools and answering the questions that pupils put to me. I had the pleasure of doing this a couple of weeks ago when I visited Armley Park Primary School.
The School Council asked me some fantastic questions, including ones about how I am working to improve their local area, and I was also able to give them some debating tips before they head to a debating competition in the New Year.
Thank you to the students at Armley Park for having me!
Switch Mobility
I was pleased to be able to visit Switch Mobility with my friend and colleague Louise Haigh.
This fantastic Leeds company is producing net zero carbon neutral vehicles, whilst also manufacturing London's famous red buses, and helping Transport for London work towards their net zero target. I am thrilled that a Leeds business is leading the way in this industry.
As the end of 2021 draws near, I would like to wish all of my constituents a very merry Christmas, and a Happy New Year.
Thank you for your support over the last year, and please do not hesitate to contact me if you have any concerns or queries. My office will be closed from Thursday 23 December and will reopen on Tuesday 4 January 2022, but we will continue to check for any urgent issues during this time.
I hope that you are able to celebrate Christmas safely.