By Leeds West MP Rachel Reeves
I was able to visit Stonebridge Mills this month to see how work is progressing on new homes at the development in Farnley.
This regeneration of a former brownfield site will eventually create more than 100 new homes off Stonebridge Lane. Some of these will be new-builds, alongside the redevelopment of the grade II listed and long-derelict former mill buildings and cottages.  
It's great that the historic chimney and water tower – a local landmark – are being retained as a reminder of the site's proud industrial heritage.   
The renovation of the old mill looks brilliant, and I was pleased to hear about how the community are being consulted about all aspects of the development. I can't wait to visit again once the work is completed.
Improving West Leeds Parks
The huge importance oflocal outdoor spaces, especially our parks, became very clear to everyone during the pandemic when Covid restrictions were in force.
It's vital that we ensure these community assets are cherished and improved so we can all make the most of them. 
Alongside Bramley ward councillors Caroline Gruen and Kevin Ritchie, I distributed a survey to people living near these outdoor spaces to find out their views and any changes they would like to see.
We are keen to improve Stanningley Park and we want to ensure that all the parks in West Leeds are of a high standard with good facilities.  
I will be working with the Bramley councillors and the city council on this in the weeks and months ahead.
I also visited Wortley Rec. It was great to see it being so well used. However, there are certainly improvements that can be made – such as installing more litter bins. 
If you have any views on what can be improved at any of our Leeds West parks and green spaces, then please do email me at rachel.reeves.mp@parliament.uk
Working Together in Armley
I recently visited streets in the Christchurches with Armley councillors Lou Cunningham and Alice Smart to discuss residents' concerns and priorities.  
\We also talked about well how the community can rebuild after lockdown. We were grateful for all of the feedback which included the need to tackle dangerous driving and anti-social behaviour, and Armley Park. 
I hope that we will be able to meet more of you in the coming weeks. If you have any concerns or feedback that you would like to offer, then please email me at the email address above.
Bramley Shopping Centre
I have continued to press the owners of Bramley Shopping Centre – LCP Group – to reinstate the benches which they took away. The removal of the benches caused a great deal of upset among local residents and made the centre less accessible for the elderly and those with disabilities.
Peaceful "sit-ins" are taking place every Saturday, and over 60 people were at the one I attended recently. The local campaign group – "A Place To Sit" – have been bringing their fold-out chairs to the centre to show the new owners how strongly they feel about this issue. 
I will continue to keep the pressure on the LCP group to reinstate more benches than the eight which they are currently offering to put back.
West Leeds' Local Heroes
This summer I had the privilege of meeting some of those who have won a Leeds West Local Hero award – an initiative I started last summer to reflect the incredible work individuals and organisations had been doing to support others during lockdown and the pandemic.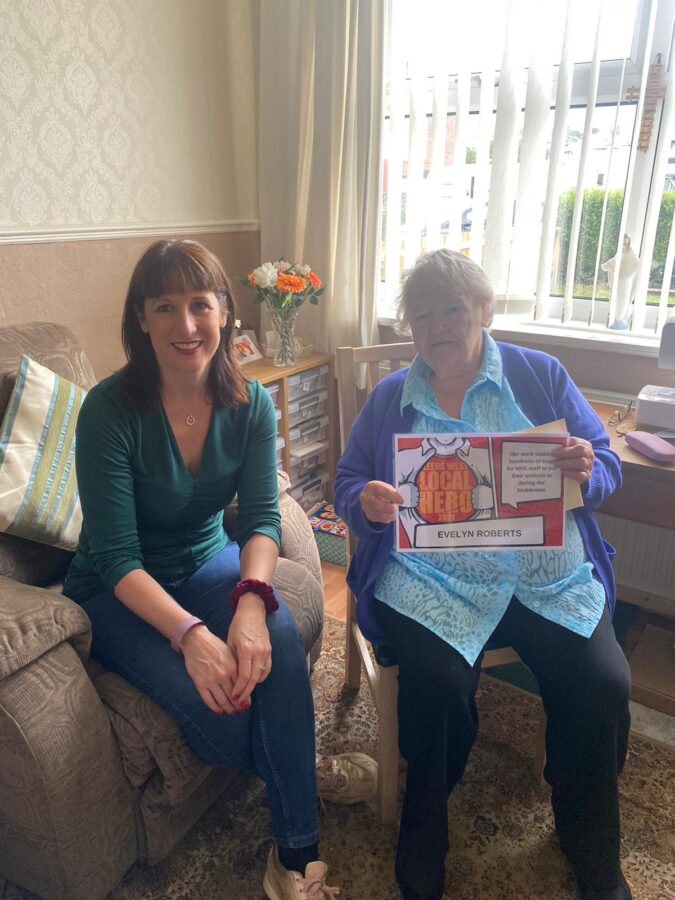 The awards nominations were opened again this summer and once again I was delighted to read about the good work and deeds that take place within West Leeds, much of which goes unnoticed.  
The inspiring examples included Evelyn Roberts, who sewed 400 wash bags for NHS workers to put their used scrubs in, as well as Vickie Jamieson, who has worked tirelessly to run the Bramley Clothing Exchange. 
This competition always makes me so proud of our community, and it is the same this year. Congratulations to all of the nominees and the winners.