A campaign to raise money to restore the former Pudsey Park steamroller will host its latest fundraiser.
The Friends of Pudsey Roller are having another one of their Transport and Steam nights on Thursday 2nd November 2017 at Farsley Liberal Club.
The steamroller, which dates back to the 1920s, was a popular attraction for generations of children between 1959 and 1990 before it was removed from the park after falling into disrepair.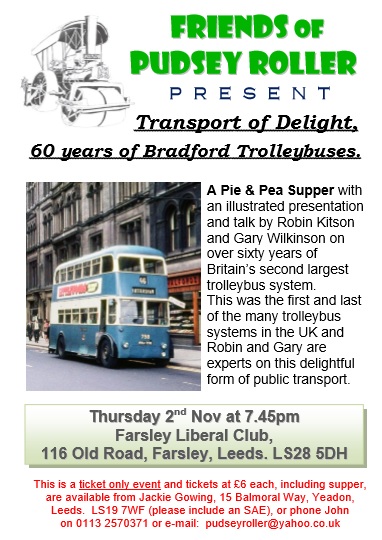 The Friends of Pudsey Roller Group is dedicated to raising money to restore the Fowler steamroller that stood in Pudsey Park and was played on by numerous generations of local children.
Member Brian Woolhouse said:
"Presently the Roller has been taken away from the site in Wyke, Leeds where the preliminary work had been started and is now in the hands of the Road Roller Association in March, Cambridgeshire awaiting the next stage of its development."
The transport and steam night features a pie and pea supper followed by a talk on 60 year's of Bradford's trolleybus.
This is a ticket only event and tickets at £6 each are available from Jackie Gowing, 15 Balmoral Way, Yeadon, Leeds, LS19 7WF (please include an SAE), or phone John on 0113 2570371 or e-mail: pudseyroller@yahoo.co.uk.
Get involved!
To make a donation, to sponsor or to join the Friends group, contact Derek Rayner on 01904 781519 or email derek@invicta1915.freeserve.co.uk. You can also go to their website.