A Pudsey church is one of 17 places of worship in Yorkshire to receive part of a £70,000 fund for essential repairs, conservation and maintenance works.
St James the Great, Woodhall and Waterloo, Pudsey, has received £3,000 for vital external repairs to safeguard the future of the building from the Yorkshire Historic Churches Trust (YHCT).
St James' plays an important role in the community, hosting regular fitness classes, Slimming World and Brownies meetings, two choir groups and occasional holiday clubs as well as weekly Muslim prayer meetings and regular family events – a reflection of the diverse local community.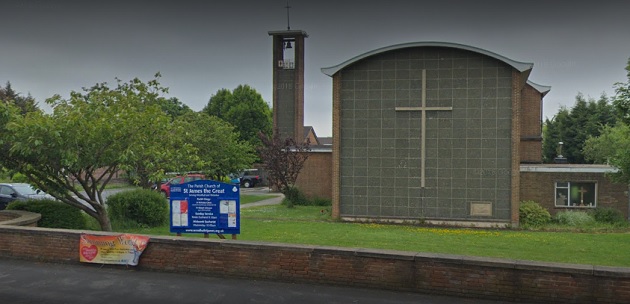 Fr Nicholas Clews, from St James', said:
"We are delighted to receive this funding from the YHCT towards the costs of the essential repairs to keep the building watertight and in good order. We care for local people, and as the only community building in the area, we want to provide a central community hub for the people of Woodhall and Waterloo.

"The necessary repairs were identified a few years ago by our architect, Richard Crooks, and we are very keen to get them sorted in order to preserve the long-term future of the building."
Funding was awarded to places of worship including Methodist, Anglican, Roman Catholic and Quaker denominations, and recipients ranged from a rural meeting house in Malhamdale, the Grade I listed Rotherham Minster, St Joseph's Catholic Church in Bradford and St Mary's Chapel in Crathorne on the North Yorkshire Moors.
The YHCT works to ensure places of worship are kept in good repair, recognising the contribution they make to society at large and the support they provide to local communities, especially during the ongoing Covid crisis.
Tom Ramsden, Chairman of the Yorkshire Historic Churches Trust, said:
"Over the past eighteen months many places of worship have struggled to keep their buildings open and active. These are community places, and many provide a much needed hub for a range of activities.

"Thanks to the generous support of our Friends and donors we are delighted to support these places of worship, who now more than ever, need our help to ensure they remain standing from many years to come."
You can become a Friend of the Trust and help support local places of worship from as little as £35 per year. Friends get to enjoy a range of lectures and church tours throughout the year. More details here.
St James was consecrated on the 6th June 1959 by Bishop Donald Coggan. The parish was created on November 6th of the same year. The church succeeded two previous churches, both mission churches of St Lawrence, Pudsey.