We were a little later than usual with the Pudsey Carnival de-brief meeting which was held this week but we looked back on what we felt was an extremely successful event, writes DAWN SEARY.
Of course, it would seem that we have had the fortune of constant sunshine since early May and that always adds to the feel-good factor on the day.
We felt one of our achievements on the day was the three activities we secured from the Breeze Leeds team – and sponsored by local businesses, The Fleece Pub Pudsey, 365 Total Security and Sainsbury's at Chapeltown.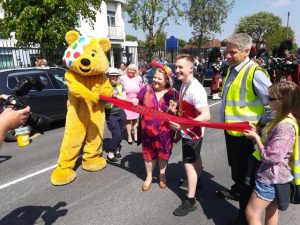 All these activities were FREE throughout the day in addition to our regular Punch and Judy show and our now firm favourite, the circus skills activity.
The parade was amazing as always and we are very proud to continue the tradition of the Parade at the Carnival – we remain one of only a handful left throughout Yorkshire who still have a parade – despite the heavy costs involved in keeping it going.
We think our Meghan and Harry look-a-likes were fabulous, as were all the groups and individuals who took park in the parade – we want to make it even bigger next year so get thinking about your group or organisation and plan your floats!
The winner of the best float was Southroyd Junior School who won £300 prize money Kindly donated by PDS Windows. Waterloo Primary School won the best walking float for the second year running, winning £200 prize money from PDS Windows.
We would like to thank Pudsey's very own Nile Wilson for starting off the parade and for so generously donating his time showing the people of Pudsey his gold medals and posing for photographs.
Also, we wish the thank the Lord Mayor of Leeds Jane Dowson in one of her final duties as Mayor for judging the floats and we look forward to her return next year – hopefully on stage entertaining us!
K9 hikes held another successful dog show on the field, despite the heat.
We also welcomed quite a few ex-Pudsey Carnival Queens to the arena on the day to help us celebrate 30 years of Pudsey Carnival as well as the original queen from 1988 Leslie Dixon.
Our bus tours are still proving popular, although there was a distinct lack of treacle miners this year to spot on route – if you were a treacle miner or are one, please get in touch as we would love to see you involved at the Carnival next year!
On a more serious note, we are extremely proud to announce that this year we have raised enough money to purchase two community access defibrillator for Pudsey.
Thank you to everyone who has supported/donated/entered/entertained towards this achievement. We will update you on the location of the new defibrillators once they have been fitted.