This year we celebrate 30 years of Pudsey Carnival. Because of this anniversary, the theme was decided to be: "Through the years" 1988 – 2018, writes Dawn Seary.
Although the Carnival itself can be traced back much further – its roots are in 1898 when Pudsey was bidding to be a Charter of Incorporation, the Carnival only lasted three years and ended in 1890 when Pudsey was successfully given Charter Status by Queen Victoria.
The Carnival started again in 1923 after mayor Richard Ingham attended Blackpool Carnival and decided we could do much better! Raising funds for Pudsey Medical Charities, it ran until 1947 ending when the NHS started.
1929 saw a change of name – Pudsey Glad Rag Day, and a change of location –the parade assembled on Carlisle Road (although the route remained the same as previous years).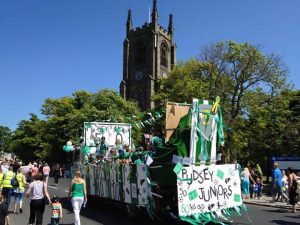 For a number of years there was a comic King and Queen – the queen usually in drag – but by 1932 this was replaced by "the dignity of a Queen and her court" with a young Queen picked for a year and required to attend all the fund raising events promoted during the year by Pudseys Medical Charities Committee. The carnival traditional ended with a "Flannel Dance" at Primrose Hill School.
In 1939 the carnival introduced "Miss Industry" and at this time, the carnival was over a week long.
Candidates were nominated by their places of work. Judging was in a marquee set up on the old Feast Field (Robin Lane) and the candidates were required to parade along a platform, give a short speech about their commitment to medical charities and were judged on "charm of manner, appearance and personality" again, the successful Queen would attend money raising events for the following year.
The carnival had close links with the Bradford Alhambra and "Miss Industry" was invited to visit the Alhambra and sit in the Royal Box.
Draped across the front of the box was a banner saying "Welcome to Pudsey's Miss Industry".
Miss Industry from 1936 to 1939 were: Gertrude Corp, Margaret Dibb, Betty Butterfield (of Leigh Mills) and Mona Booth (of Valley Mills).
The 1939 Carnival was thought to be "the best ever" with the parade now being two miles long and a record profit of £650 was announced.
The Carnival ended around 1947, it is thought because of the National Health Service which meant that the Medical Charity's fundraising was no longer needed but not before Miss Victory was crowned in 1945, and Miss Pudsey in 1946 and 1947.
In 1988 The Carnival was revived for a third time by a small group of local people which makes this year our 30th anniversary.
So, with a nod to the past, as well as searching for this years queens, we are currently searching for all of the past years 29 Queens. Lesley Dixon was crowned Carnival Queen in 1988 following in the footsteps of Marie Goodall in 1898.
If you know any past queens, please get in touch as it would be wonderful to celebrate 30 years of Pudsey Carnival with 30 queens!
Saturday 19th May is also the date of the Royal Wedding and we are also searching for a Meghan Markle look-a-like to take part in the parade. If you know someone who looks like Harry's future bride, we would love you to get in touch.
Contact us via our Facebook page, twitter or e-mail our chairman Simon Seary on simonseary@msn.com for more information.