Work on the first phase of apartments at the multi-million pound Kirkstall Forge development could start next year, if plans for the first phase of residential development are agreed by councillors next week.
The proposals, from developer CEG, include a public square and up to 2,076 square metres of commercial floorspace including possible pubs/drinking establishments and hot food takeaways.
The first residential phase will provide 213 homes, including 77 houses offering three to five-bedroom family living, alongside new apartments.
Developers CEG say the unique style of architecture is inspired by the local stone of the old forge building and Kirkstall Abbey, with space and light maximised with high ceilings and tall windows. They will offer open plan living opening out onto gardens and terraces across different floors, with roof verandas providing views of the valley.
Two apartment buildings are also proposed, just north of the River Aire, providing 136 studios to three-bed apartments with 1,350 sq m of leisure and retail space on the ground floor.
They will be set around a new public square called The Stitch, which includes a pocket park. This area will create a venue for organised events and informal gatherings at the heart of the development.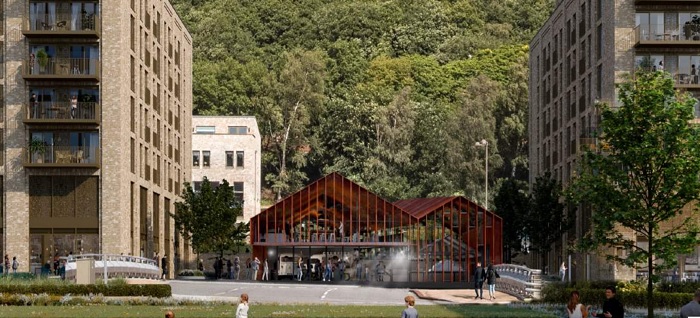 The principle of housing has already been established on the site, and Leeds City Council only needs to consider the detailed design of the housing.
The planning application has the backing of influential civic watchdog Leeds Civic Trust which "strongly supports the project for commendable design intentions"
A planning officer's report to be considered by councillors concludes:
"The proposal provides for what is considered to be an updated and improved design arrangement to an established general set of parameters secured through previous reserved matters consents relating to the original outline consent and Masterplan/place making of the wider Forge estate."
CEG originally secured detailed planning permission for 135 homes in 2019 and built two prototype homes, which will be tested once Covid-19 permits.
The housing design remains unchanged in this latest application, but with four fewer homes this has enabled the two apartment buildings to be redesigned. They are slightly taller, with upper floors set back to minimise the visual effect, and more apartments are offered.
The proposals will be considered by councillors at the South and West Plans Panel meeting next Thursday, 28 January, at 1.30pm. You can watch the meeting online here.
Leeds University students unveil art at Kirkstall Forge
Developer CEG has commissioned 20 pieces of artwork for its prototype homes at Kirkstall Forge as part of a competition with Leeds Arts University students.
More than 80 applied from a wide variety of courses ranging from textile design and fine art to illustration, animation and photography.
Aisling Ramshaw, head of sales and marketing at Kirkstall Forge, said;
"We needed unique pieces of artwork for our architect designed homes. They could reflect the history of the site as the oldest continually commercial site in the UK or its future as one of the most sustainable and technologically advanced places to live and work.

"We were delighted by the calibre and range of paintings, textiles, photography and digital artworks entered and it was very difficult to shortlist the entries. We have selected 20 of the most vibrant, striking and individual pieces which reflect the way that every detail of the design of this special place has been considered."
The project is designed to help students not only be creative but also enhance their commercial acumen. From the interpretation and delivery of their work through to their negotiation skills in agreeing a budget and working closely with the client to finalise the piece.
Susan Daubney, who is studying a BA (Hons) Fine Art L6 at Leeds Arts University, added:
"As the Kirkstall Forge brief was the first time I had submitted any work for external consideration I found the whole process very interesting and a useful insight into the industry for an emerging artist.

"My artwork submission was digitally produced using my original paintings and the final piece was light, airy and vibrantly colourful and intended to be reflective of the natural surroundings and modern contemporary styling of the new homes at the Kirkstall Forge site. My design was able to be reproduced in various colourways which could be representative of the seasons, location or decor."
The prototype homes offer a unique style of architecture resembling the local stone of the old forge building and Kirkstall Abbey, space and light are maximised with high ceilings and tall windows.
The 57-acre site is already home to Number One Kirkstall Forge offices and Butler's deli restaurant, a new railway station and two prototype homes.
CEG is fast-tracking the detailed design for the next phase of offices after detailed planning permission was granted in June for offices and a multi-storey car park.
Ultimately, Kirkstall Forge will provide up to 1,450 new homes, 300,000 sq ft of offices and 100,000 sq ft of retail, leisure and community space.
A dedicated Kirkstall Forge Life team has already been established and runs regular health and fitness events, social activities, walking and biking clubs, as well as managing cycle and scooter hire and encouraging the 1,000 people who already work at the site to travel sustainably.