Words: John Baron, WLD Editor
A people-powered community newsroom has launched in Bramley, drawing together local people to help tell the story of their community.
The newsroom is run by community led West Leeds Dispatch, and is based at Bramley Lawn Social Centre, off Stanningley Road.
It aims to provide a friendly and relaxed base for community reporters and anyone interested in telling the story of their community to come for a cuppa, work on articles and receive advice or support.
The newsroom was put together thanks to a real community effort, including the support of local volunteers and businesses.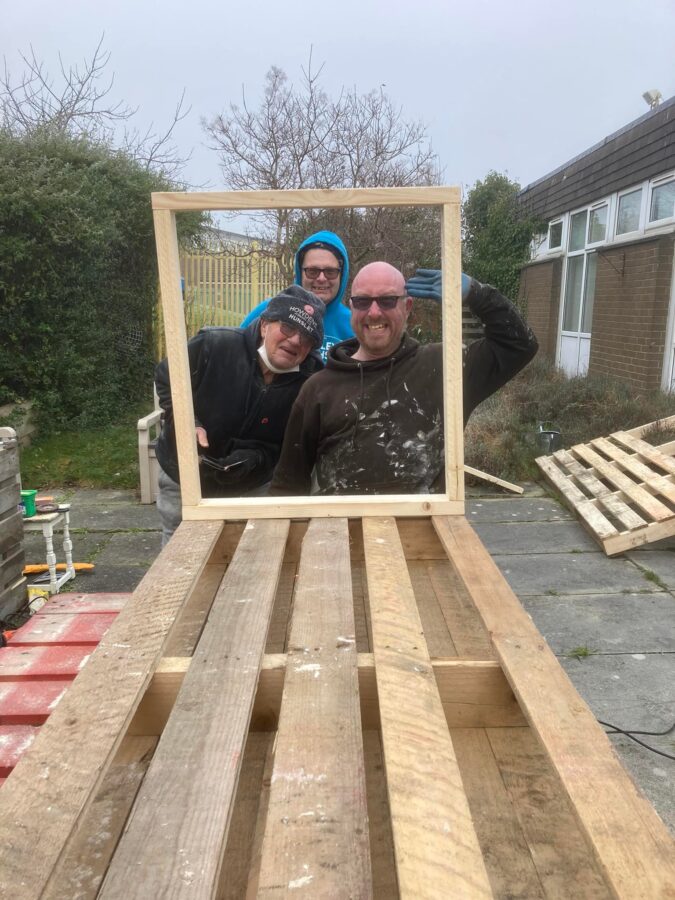 Community reporters Iola Shaw and Philip McConnell helped to decorate the office, volunteers from the Bramley Care Bears group made two desks out of recycled pallets donated by Leeds council and Carpet Corner in Bramley generously donated the carpet.
Community reporter Anne Leng brought in the office plants and community project Shantona Women's Centre generously gave us some chairs.
Dispatch editor John Baron said:
"I've been some humbled by how so many people have helped make this newsroom a reality – it's been a real community effort. Everyone at WLD is really excited to open our new community newsroom, which will provide a base for the people of West Leeds to come and use – and have a friendly cuppa! 

"It's a great base for us, at the heart of the community in a bustling building with a wide variety of activities already going on.

"We'd like to thank everyone who has helped put this together – particularly the Bramley Care Bears and Carpet Corner. WIthout them we wouldn't have been able to do it.

"Our thanks also go to Bramley Elderly Action for hosting us and for their help in clearing the room and taking down the dividing wall. We're really looking forward to people joining us – and to running a new community reporters' training course there soon."
The newsroom is open Mondays, Tuesdays, Wednesdays and Fridays 10am-3pm, and Thursdays 4.30pm-8.30pm. If you're planning on popping in, give editor John Baron a call on 07446 968140 or e-mail news@westleedsdispatch.com before attending.
Bramley Lawn is based on Rossefield Lawn, off Rossefield Approach is run by Bramley Elderly Action (BEA) and offers a variety of community activities, including community cafes, events and services there.
Here's the story behind making our community newsroom…
Bramley Care Bears have it nailed
"By 'eck it's a cold 'un!' volunteer Gavin Lundy said as the first nail was hammered into a wooden pallet in the freezing cold yard at Bramley Lawn.
It was a frosty January morning with the temperature set to rise barely above freezing all day when five hardy volunteers from the Bramley Care Bears group rocked up with woolly hats and enough community spirit to warm the coldest of hearts.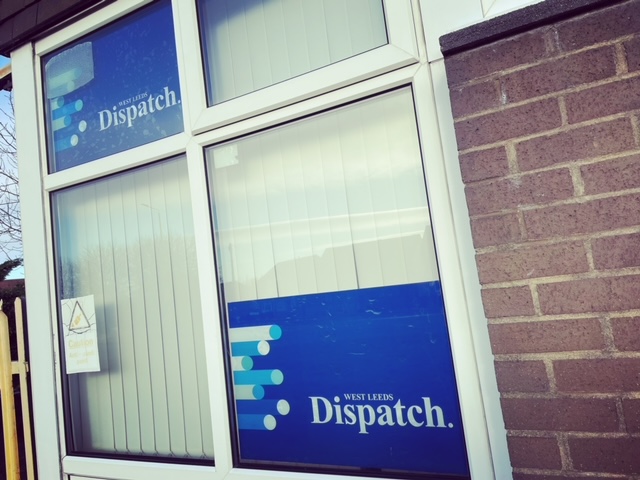 With blue noses and fingers at the ready, the group looked to make two desks – named Molly and Brian – for the WLD community newsroom.
Much sawing, sanding and hammering followed – and plenty of hot tea and biscuits, as the volunteers performed heroics. And many of them came back for another couple of sessions to get the desks finished off. It was a determined team effort in cold conditions, with lots of laughs thrown in.
Volunteers showing how teamwork and community spirit makes a difference included Barry, Pete, Colin, Gavin, Philip (and WLD editor John).
Bramley Care Bears is a volunteer-run community group set up in September 2019 in Bramley.
They aim to develop a sense of community spirit, trust and support across the area and their volunteers carry out  garden makeovers, Bramley Food Bank, homework club on the Broadleas, a woodworking shop and litter picks.
Carpet Corner to the rescue
Carpet Corner in Bramley came to the rescue when WLD board member Diane Law appealed for help in finding some carpet for the new community newsroom.
"We were really struggling and money was tight, so we were overjoyed when Carpet Corner very generously offered some quality carpet to make our community newsroom complete," said WLD editor John Baron. "They were so friendly and helpful when I popped round – and the carpet is really lovely! We can't thank them enough."
Carpet Corner is a small family run carpet and flooring business which has been running for more than 30 years. It's about five minutes' walk from the community newsroom, on Stanningley Road.
It's now run by sisters Charlotte Jones and Heather Bradburn, who took over running the business last year from their parents Rob and Gina Bradburn.
The business offers a large selection of carpets, vinyl, laminate and luxury vinyl tile flooring. More details here.
Contact us
West Leeds Dispatch is run by a board of volunteers who live and work in the area and is written by more than 50 community reporters.
Are you interested in getting involved with WLD? Do you have a story for us? E-mail news@westleedsdispatch.com.