Planning permission to use one of the units at the new Belgrave Retail Park in Stanningley as a tanning salon has been approved ny Leeds City Council.
Construction of Unit 5-6 at the new retail park had already started – but applicant DPP only had permission to use it for retail, not as a tanning salon.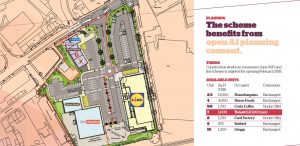 The salon will join budget supermarket Lidl, which will have a 24,500 sq ft supermarket on the site.
It's been confirmed Lidl will be joined by Home Bargains, Heron Foods, Greggs, Betfred, Barnardo's, Costa Coffee and Card Factory.
The salon would open 7am-8pm daily and 8am-8pm on Sundays.
A report by Leeds City Council planners approving the application concludes:
"With regard to the principle of the development, it is concluded that the use of Unit 5-6 as a tanning salon is compatible with the wider retail uses within the site and it will not detract from the retail function of the Belgrave Retail Park."
The former Belgrave Works site off Town Street in Stanningley has been empty for more than a decade.
The new retail park is due to open in February.