There cannot be many places in Leeds where you have two churches as close together as these two, writes Mark Stevenson.
The oldest is what was known as the Ebenezer Chapel and was built in 1856. It closed around 1909 to be re-opened as a cinema on 25th April 1910, owned by American Bioscope Co. Ltd.
The name changed to Western Talkie Cinema on 9th November 1933 and closed in 1956. It re-opened again in 1957 as The New Western to finally close as a cinema in 1960.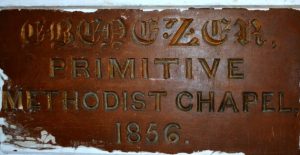 The 1905 chapel is probably better known as Mike's Carpets.
It was built by Thomas Howdill and his son Charles Barker Howdill, who went on to teach at Leeds School of Art and is thought to have been the first to use colour photography as an aid to a lecture on architecture.
There are four foundations stones on the 1905 Chapel and many more memorial stones and although the building is listed many are in a bad way and barely readable.