James and Ada Stewart had at one time or another lived at 16 Burley Lodge Road and 4 Lodge Avenue (roughly where the grass is between Gilpin Street and the rail track), writes Mark Stevenson.
In 1914 they had nine children, eight sons and one daughter. By 1919 they had four.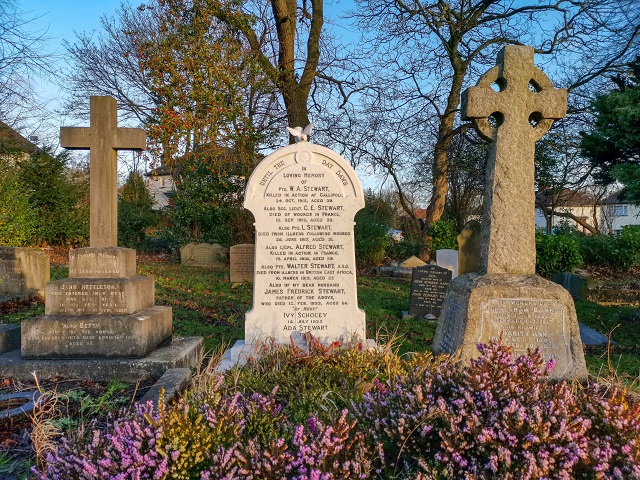 Five of their sons had been killed fighting for King and Country in WW1.
To make matters worse their son Walter survived the war and he served in East Africa but died on the ship on his way home and was buried at sea. Up until 2011 he was not even recognised as a casualty of war. 
Pvt William Arthur Stewart killed at Gallipoli on the 24th October 1915, aged 29.
Second Lieutenant Charles Edward Stewart killed at the Somme on the 10th September 1916. Mentioned in Dispatches in 1915 he was shot in the head whilst leading his men.
Pvt Leonard Stewart contracted pleurisy, he died in a Manchester hospital on 26th June 1917, aged 21.
Private Alfred Stewart killed in Belgium on 13th April 1918.
Of the three remaining brothers;
Robert Henry Stewart survived the war and died on the 25th October 1928, aged 35.
James Frederick Patrick Stewart (the eldest) also survived the war and died in 1944.
George Mears Stewart, (the youngest) at the age of 41 joined up in WWII. He was a Captain by the time he left the Army in 1947. He died in  1957.