Words: Jennie Ashton
Youngsters in Bramley have had their say on what community led Bramley Baths means to them as part of an art competition in lockdown. 
The competition is part of a community survey funded by the National Lottery Heritage Fund with the hope of unearthing and identifying services that are needed but are currently lacking in the Bramley area.
Youngsters expressed themselves with a re-design of the iconic stained-glass windows, with the results reflecting ideas of "fun" "family" "community" and "heritage". 
One even came in with a short piece of writing… 
 "My name is Alex, and I am 6. Swimming at Bramley Baths to me is relaxing, fun, learning, fantastical, family and safe. I miss swimming, it's my happy place."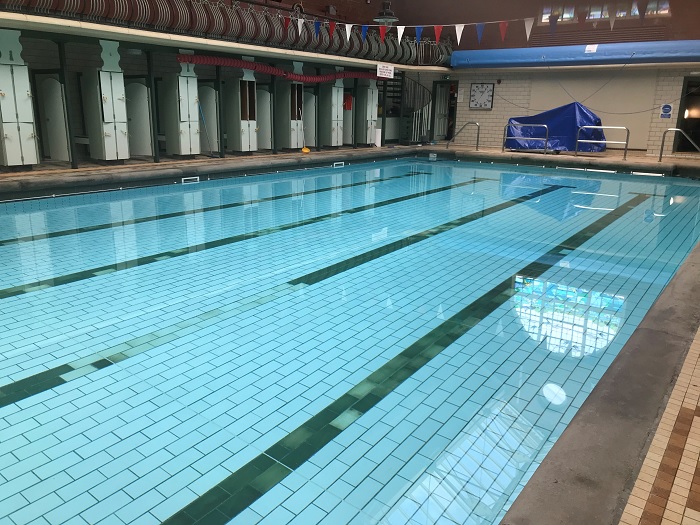 There were 33 entries, with six-year-old Poppy chosen as the winner by Bramley Baths chair John Battle. Her design will now be made into a greetings card that will be available to buy.
Bramley Baths CEO David Wilford thanked all the participants and added:
"We are really grateful to NLHF for the grant support including help in creating the fixed exhibition, it showcases the heritage we offer from our historic 1904 building, capturing stories and events throughout the years from and for the people of Bramley and further afield."
Staff at the Baths, which has been community led since 2013, have also started an eco survey on their Edwardian Grade II Listed building, and training among the team to develop and diversify the services the Baths offers.
The Baths' heritage is also being celebrated with the installation of a permanent community exhibition around poolside.  

This project is funded by the Culture Recovery Fund for Heritage. The Culture Recovery Fund is being delivered by The National Lottery Heritage Fund and Historic England, using funds provided by the Department for Digital, Culture, Media and Sport.  
Bramley Baths is a not-for-profit community enterprise.
Independent community led journalism needs your support in West Leeds…