West Leeds Remembrance Sunday services will remember the area's war dead – with hundreds of people expected to attend services in Bramley, Calverley, Farsley and Pudsey.
2015 is the centenary of the 2nd battle of Ypres, the first time poisoned gas was used and British, Canadian and French troops, unaware and unprotected, were met with poisoned gas drifting towards them from the German lines
At Bramley War Memorial, there will be services on Sunday and a smaller one next Wednesday.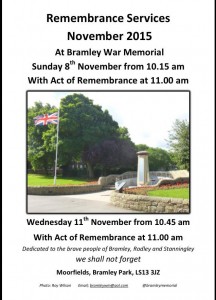 Bramley Remembrance Service starts at 10.15am, with Act of Remembrance at 11am. Representatives from both the Muslim and Jewish communities will also be present to add a multicultural feel to proceedings.
There will be an additional wreath laying ceremony on Sunday, 8th November, at Brookfield Country Park, off Brookfield Avenue, Calverley at 3pm.
The Calverley branch of the Royal British Legion will be laying the wreath at the Calverley Memorial and Councillor Andrew Carter will laying the wreath at the Farsley Memorial.
And in Pudsey, the parade leaves Pudsey Market Place at 9.45am, followed by a service at Pudsey Parish Church at 10am and, art 10.50am, an act of remembrance and two-minute silence at Pudsey Cenotaph.