The Sheesh Mahal Restaurant is set to re-open tomorrow night – 15 months after it was devastated by the Boxing Day 2015 floods.
The restaurant, like many on Kirkstall Road, was left under several feet of water when the River Aire broke its banks as a result of heavy rain from Storm Eva.
The past 15 months saw owner Asram Chaudhry lose a lot of money due to the floods and face difficulties with insurance which slowed down the re-opening.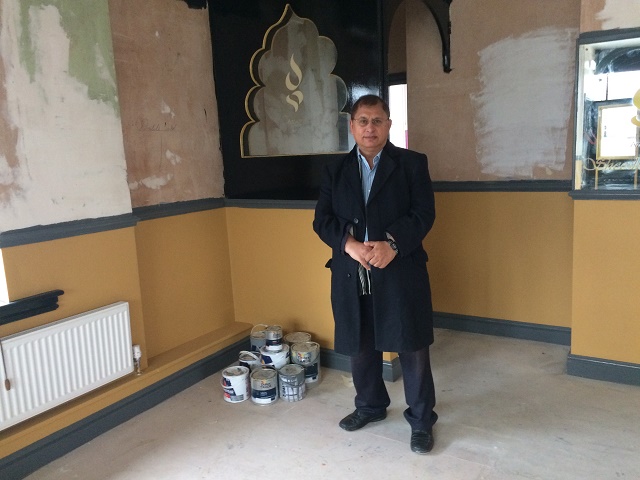 Azram thanked customers and volunteers for their support. He said:
"Repairs have taken lot lot longer than we all expected.

"Your support kept me going and I like to say big thank you to everyone. I'm so sorry for the delay and can't wait to welcome you all."
Azram said he was heavily indebted to the help of what he called 'volunteer angels' who who helped both Sheesh and Hasans, which he runs next door, of 10 feet of sewage water in his basement and first floor. Hasans remains closed.
Azram spoke to the Dispatch in December about the difficulties his business has faced:
News of the official reopening – on Wednesday, March 1 at 5pm – has been welcomed on Facebook.
Tracy Catherall said:
"That is wonderful news!!!! Can't wait to enjoy a lovely meal with you again. Very best of luck for your opening night. Lots of love xx"
Kate Gabriel posted:
"Great news Azram. All the very best to you and the team for your reopening. We hope to visit Leeds soon to see you and fill our freezer with supplies. Tom and Kate xxx"
@sheeshmahallds Wonderful news. I can't wait to come again. Enjoy your opening night.

— Tracey Marshall (@ThreadSquirrel) February 28, 2017
Carly-Jane Hurst added:
"Congratulations Azram me and my family been looking out for when you reopen as we've missed it and seeing you obviously! Happy days ahead, see you soon love Carly & tribe xx"
Parts of Kirkstall and Burley are still battling the after-effects of the floods.
In December the Team Kirkstall Regeneration Hub was set up by Phil Marken of Open Source Arts, the Environment Agency, Leeds City Council and BAM Nuttall, who are working in partnership to deliver a flood alleviation scheme for the city.
The hub aims to make Kirkstall a better place to live and work and gives flood support to those affected by flooding or worrying about it happening in the future, as well as giving people a voice on how the area can become more resilient against future threats.
And volunteers are still holding monthly clean-ups around the River Aire.
See you all at TCV hollybush in the morning for our first cleanup of the season- 10am-2pm its gonna be nice weather 🙂 call 07508543473 pic.twitter.com/IB4LQ2IsDA

— Open Source Arts (@Opensourceleeds) February 17, 2017