Police investigating the Halloween 'ride out' which brought Kirkstall Road to a standstill have arrested seven people in early morning raids.
The six men, aged 22 to 26, and a 29-year-old woman have been arrested on suspicion of conspiracy to cause a public nuisance in relation after motorbikes and quad bikes congregated in Kirkstall Road. The bikes had also been ridden through pedestrianised areas of Leeds city centre.
Officers made the arrests and carried out searches at addresses in Bramley, Armley, Farnley, Harehills, Burmantofts, Roundhay and Batley.
They seized four motorbikes and a number of items of motorcycle equipment, such as helmets and clothing, as part of the investigation.
Detectives are now appealing for the public's help in identifying ten males shown on CCTV images: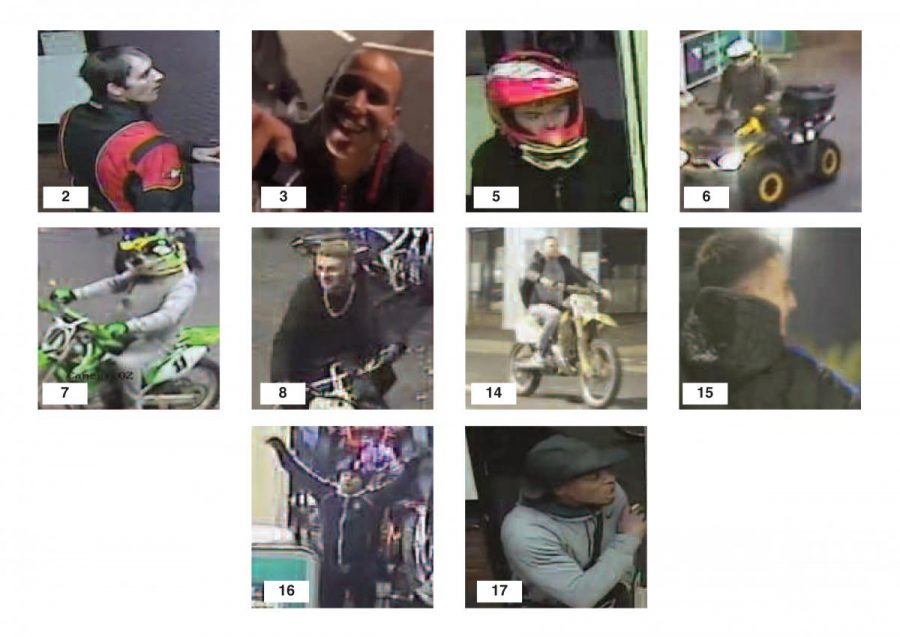 Enquiries have also identified around 80 registration numbers of vehicles involved in the incident and work is ongoing to identify the people using them with a view to further action.
Chief Superintendent Paul Money, Leeds District Commander, said:
"We hope today's operation and our continuing investigation will send out a very clear message to anyone who is considering arranging or taking part in any such event in the future."
Injunction granted
Leeds City Council has also been granted an injunction at the County Court at Leeds as part of wider plans to give authorities additional powers to prevent similar events in future.
The interim order under Section 1 of the Anti-Social Behaviour, Crime and Policing Act 2014 bans anyone from participating in anti-social driving of motor vehicles, including motorbikes and quad bikes, involving two or more motor vehicles in any public place in the Leeds district.
The order also forbids people from promoting, organising or publicising the anti-social driving of motor vehicles.
The injunction carries a power of arrest and applies to equally to passengers of any vehicle encouraging others to drive anti-socially.
Councillor Debra Coupar, Leeds City Council's executive member with responsibility for Safer Leeds, said:
"I would like to make it clear that this injunction was not secured to hinder in any way the enjoyment of motorcyclists and others that enjoy riding in groups in a law abiding and sensible fashion. The injunction is there to provide us with the tools to take proactive action against those individuals who are seeking to behave in such an irresponsible way as this group did, which put the safety of residents and motorists at real risk."
Anyone who knows the identity of the suspects shown in the images or who has any information that could assist the investigation is asked to contact officers on Operation Dice via 101 quoting crime number 13160541790 or call Crimestoppers anonymously on 0800 555 111.
The organiser of the event, a 26-year-old man from Headingley, was arrested on November 1 and remains on police bail pending further enquiries.