By Jim Corah
With a little over six weeks until Kirkstall Festival 'comes home' to the grounds of Kirkstall Abbey, organisers are seeking new volunteers to get involved in continuing the Festival's story.
There will be a meet and greet event on Wednesday, 1 June 2022 at 8pm in the West End House (Abbey Road, Leeds) as a meet and greet for potential volunteers.
This will be followed by events on 20/06/2022, 29/06/2022, and 01/07/2022, with details posted on the Kirkstall Festival Facebook and Instagram pages.
Having started in 1980 and growing ever since, the annual community gathering in the grounds of Kirkstall Abbey will return on Saturday, 9 July 2022. The theme will be Kirkstall Abbey Coming Home, it will be a fantastic celebration of our communities coming together after two years of lockdowns and a Mini-Festival in 2021.
Kirkstall Festival will be a full festival this year. There will be a fairground, the regular areas of music and performance, activities, and fun, as well as over one hundred stalls and caterers. The event is free to enter though visitors can support Kirkstall Festival by purchasing a £2 programme.
However, as there has been a couple of year's break the Festival organisers have taken the opportunity to make slight changes to how the event is put on. One of the areas the organising committee is looking to make changes is by recruiting new volunteers.
Kirkstall Festival is completely volunteer run, with volunteers coming together throughout the year to pan and prepare all aspects of the event. New volunteers will help the event run smoothly and keep bringing the community together for many years to come.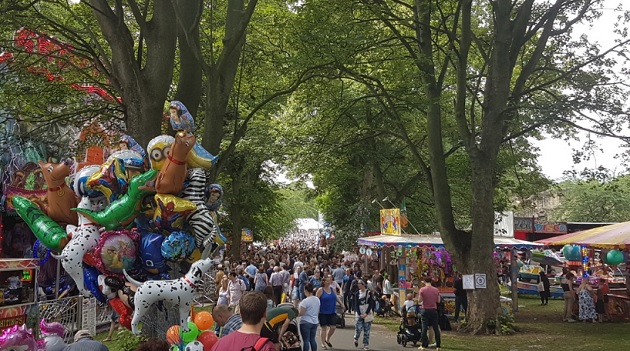 Kirkstall Festival is looking for volunteers for Friday, 8 July 2022, set up day, as well as throughout Saturday, 9 July 2022 for a variety of roles.
Each volunteer's time and support is appreciated by Kirkstall Festival, and there is no expectation that every volunteer will give two full days of work.
Volunteers are only expected to do as much as they can do, whether this is a couple hours or full days, and there are roles for all members of the Kirkstall and West Leeds community. Kirkstall Festival is an inclusive and welcoming festival, and it is expected that our volunteers reflect our communities.
Ideally volunteering at Kirkstall Festival should be as much fun as visiting the event, though with the added sense of knowing that each volunteer has contributed to one of the largest volunteer-run events in Leeds.
Events like the festival contribute to the wellbeing of our communities, they bring visitors together in celebration of their communities, and they spread community cohesion.
The roles will support all aspects of the Festival over the two days. Field team volunteers have the physical task of helping set up and take down equipment. Programme sellers are visitor-facing volunteers who welcome the community to the event and sell the programmes that help support the festival.
There are volunteers who will help the smooth running of the parade, and before the event properly starts volunteers will help guide stall holders and caterers to their locations on site.
Come along to one of the meet and greet events to see how you can get involved and help put on an amazing event.
Jim Corah, publicity/event manager said: "Having moved here 2012 it was clear there was a vibrant and welcoming community in Kirkstall. My route to being involved in Kirkstall Festival came after joining Kirkstall in Bloom, my wife and I had made a conscious effort to be active in the community.
"However, while it was clear there were activities going there wasn't much in the way of knowing who did what and when. And certainly for the Festival, while there has been years when we've had a strong volunteer numbers we've come to the realise that new volunteers can continue to make the Festival stronger.
"Personally, I enjoying volunteering as I feel I am giving something back to my community. To quote Blur's Parklife: 'it gives me a sense of enormous wellbeing'. For the Festival I use a lot of the skills developed through my employment, and my employer benefits from the experience gained from volunteering at Kirkstall Festival and Kirkstall in Bloom. It has also helped me feel connected to my neighbours and make new friends."
Sponsored content