As Secretary of Kirkstall in Bloom it gives me great pleasure to be writing this article, writes James Corah.
Almost three weeks ago four members of Kirkstall in Bloom attended the Yorkshire in Bloom award ceremony at York Racecourse.
We came away with the 'Level 3 – Advancing' award in the It's Your Neighbourhood category.
For our first award to be this high is most encouraging for our future.
The comments of the judges included that it was "a delight to see the young age profile of the group who are all intent upon making Kirkstall an improved environment" and "the planting and mosaic in the Drink and Be Grateful Fountain Garden is to be commended".
I am so immensely proud of what Kirkstall in Bloom (KiB) achieves on a regular basis, this award is the icing on a considerably large cake of community activity.
The main KiB committee are incredibly thankful for the support we receive from our volunteers, members of the city council and local ward councillors, the other community organisations in the Kirkstall ward (especially Kirkstall Valley Community Association. We really *do* still need the litter pickers we borrowed).
We'd also like to thank the long line of members of the public who offer advice, suggestion and comments about our work at the Drink and Be Grateful Fountain Garden, the Cenotaph, and elsewhere in Kirkstall.
The award ceremony was extremely inspiring.
There were In Bloom and It's Your Neighbourhood groups from across Yorkshire, from large scale awards (Leeds picking up a number itself) to smaller community groups like ours (Tempest Road, Beeston, were well represented, as well as KiB's neighbours in west Leeds).
There were 353 (ish) awards, Leeds's 52 'in Bloom' groups got a mention, and through out the presentations there was a theme of communities coming together and making their environment better for them.
It was an opportunity to share experience and gain ideas.
I happened to talk to one of the volunteers from Friends of Brighouse Station, 2016 being their second year and they had gone from a lower award in It's Your Neighbourhood to Level 5 – Outstanding.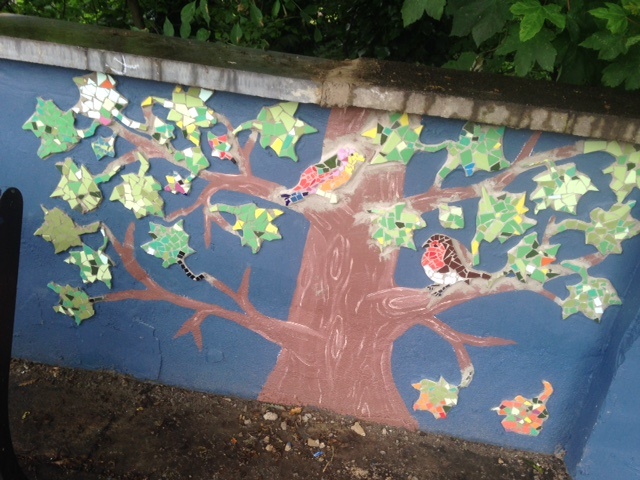 While this talk had been about Friends of Brighouse Station had used Yorkshire in Bloom to gain momentum and motivation, talking with a council officer from North Yorkshire formulated many future ideas for Kirkstall in Bloom.
We have work to do, we know it, though it is incredible to have possibilities.
The council officer suggested we spoke with Starbeck in Bloom for being a similar type of urban community – next year Kirkstall in Bloom will be aiming for Level 5 in our current category, in the future maybe definitely positively going for the Category 2A – Urban Community, Gold Award.
One of the many good things to come away from the ceremony was how community groups came together to support each other.
This is something Kirkstall in Bloom will be working on in the coming year, both across the wide, wonderful Kirkstall ward and with local businesses.
Already shoots of collaborations are appearing, with potential projects outside our main area cropping up.
It is very easy to assume that an uncared for patch of land is beyond help, that litter and weeds need their space too, though for a group of volunteers and a couple of hours, there can be amazing results.
Kirkstall in Bloom wants to help other groups with planning and organising, gardening and litter picking.
BIG #kirkstall thank you 2 our councillors for a gorgeous bench @ the Cenotaph. Special funding commemorates WW1 🎆 pic.twitter.com/ReaxYNpUrt

— Kirkstall In Bloom (@KirkstallBloom) 12 September 2016
Get involved!
Preparations for Yorkshire in Bloom 2017 already germinating too. The weekend after the ceremony we started weeding and looking after the bedding around Kirkstall Leisure Centre (some twenty-odd green bins later and it looks lovely).
Coming up at the end of the month there will be winter planting at the Drink and Be Grateful Fountain and the Cenotaph (alongside a campaign by the RHS for younger gardeners).
Everyone is welcome, no gardening experience is necessary (we really mean it, both Hannah and I would be the first to admit we knew nothing about gardens when we started), and we'll supply gardening tools, gloves, and instruction.
Kirkstall in Bloom, like all the community groups across west Leeds, thrive through volunteers, and I'd urge you to try out as many as possible.
Contact us
If you would like to volunteer and help us, Kirkstall in Bloom can be contacted via email, KirkstallinBloom@gmail.com, on Twitter, @Kirkstallbloom  and on Facebook.
I think I can safely say for the Kirkstall in Bloom committee that we thoroughly enjoy making Kirkstall look blooming marvellous because there is such a strong, welcoming, and unique community spirit here.
As our judges suggested:
"[KiB] is a group that is to be admired and the judges wish them all the best for the future and look forward to seeing their plans reach fruition."
Those who have received my emails in the past will know I tend to end them with the same message, one that I think all community groups have at their heart: Keep awesome, then do it all again better 😉
Judging criteria
Note: I assume everyone knows the normal Yorkshire/Britain in Bloom awards of Gold, Silver, etcetera, however the It's Your Neighbourhood category is slightly different.
Firstly, the thirty-odd entrants in the category were judged on their own, their only competitor being themselves (so no 'best in category'). Secondly, there are five Levels, Level 1 being 'Establishing', 2 'Improving', 3 'Advancing', 4 'Thriving', and 5 'Outstanding'.
All entrants for all awards receive details and helpful feedback on their strengths and areas for improvement.