The annual Kirkstall Abbey 7 and accompanying junior races was once again a great success with even the changeable weather not enough to put off the hardy competitors, writes JILL BUCKLEY.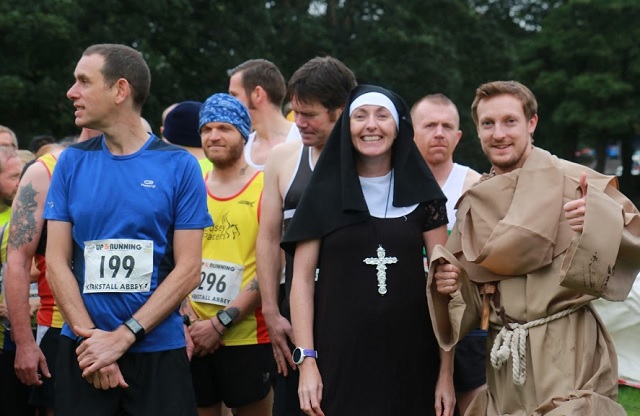 A total of 357 people took part in the 2017 senior race, with 56 in the Mad Monk Meander and 38 in the junior race. The race took on its current incarnation as the Kirkstall Abbey 7 in 2011 having previously been known as the Kirkstall Valley Trail Race. Previously Kirkstall Harriers had hosted the very successful Kirkstall 10K road race.
Kirkstall Harrier Shevonne Mclarnon was on hand to capture the event in the photos you see here.
In the Kirkstall Abbey 7 Steve Collins, an unattached runner, took first place in the men's race in a time of 39:59 and Alice Leake from Leeds City first place in the ladies race in a time of 46:13.
The ladies team prize was won by Hyde Park Harriers and the mens team prize by Otley AC. Meanwhile in the junior race first lady and first male were Holly Davey and Jenson Brogden both from Otley AC.
All of the clubs of West Leeds were represented at the race; Bramley Breezers, Farsley Flyers and Pudsey Pacers, as well as clubs from across Leeds, Yorkshire and further afield. Full results for all of the races are available from the Kirkstall Harriers website.
To add a bit of fun to the proceedings runners in all of the events were encouraged to chase after a running nun and a running monk; Kirkstall Harriers Paul Chapman and Clare Doherty took the role of monk and nun for the junior races, and Richard Kennedy-Joyce and Louise O'Brien did the honours for the senior race.
Race marshal Adam Nodwell was in a prime position to film the event at about 5 miles in:
Race director and club chairman Chris Glover said of the event:
"Despite the wet weather, the event was very well attended and all runners and supporters, young and old, had a great time.

"Our club members and their family and friends did us proud in helping to host the event and make it another big success for yet another year"