By John Baron
A Farnley mum-of-two is taking part an epic trek in the French Alps to raise awareness and funds for breast cancer awareness charity, CoppaFeel!
Emma Louise Rusholme found a lump on her breast last year and underwent a precautionary operation to prevent associated breast cancer and lymphoma.
The mum of two young children has urged women and men of all ages and backgrounds to check their breasts once a month for anything unusual.
Emma, 39, said: "I'd always thought breast cancer was for older women until I saw the Coppafeel! campaign on Instagram urging people to check themselves.
"If I hadn't seen that campaign I wouldn't have checked my breasts and found a lump, and I wouldn't have been referred to the amazing doctors and nurses at St James Hospital. I also wouldn't have had my surgery, which has prevented associated breast cancer and Lymphoma.
"I had a ticking time bomb in my body and I hate to think what would have happened if I'd
just not checked my boobs for five minutes.
"I might not have seen my kids grow up if I hadn't checked. I'd urge people of all ages to spend just a few minutes a month checking themselves."
Emma is aiming to raise £2,750 CoppaFeel! by undertaking six months' of challenges to spread awareness and help end late detection of breast cancer and related cancers.
So far these gave included shaving her hair off, weekends of roly poly's down local parks dressed as a boob and skating, cycling and walking.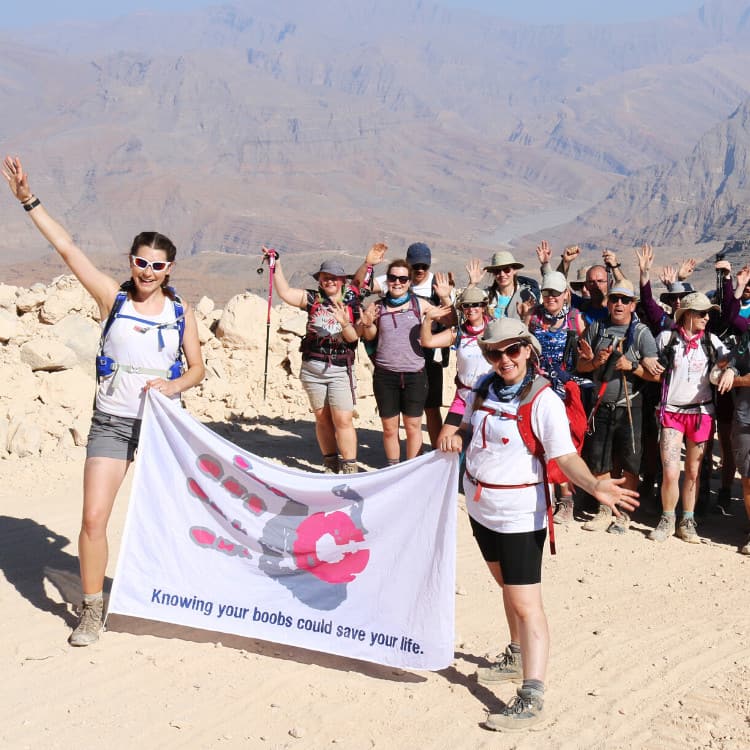 The final challenge comes in September when Emma will join actress, podcaster and 2020's Queen of the Castle, Giovanna Fletcher, other celebrity guests and over 100 supporters on an epic trek to raise awareness and funds for CoppaFeel!.
She will be heading to the stunning Mont Blanc in the Chamonix Valley for an extreme challenge which will will involve trekking of approximately eight hours a day through mountainous terrain.
"I'm excited and scared. Sometimes I think 'what have I got myself into?' but then I look at some of the other women who are currently undergoing chemotherapy and have just finished and if they are doing it then so can I," added Emma.
Giovanna Fletcher said: "Leading the CoppaFeel! treks every year is genuinely a highlight for me. It is a huge challenge, but one that I am so proud to conquer alongside such an incredible and inspiring group of people."
To support Emma's fund-raising efforts, visit her JustGiving page.
'Early detection is important…'
Breast cancer is the most common cancer in women under 40 and will affect one in seven women in their lifetime, and around 400 men a year.
CoppaFeel! are on a mission to ensure that all breast cancers are diagnosed as early as possible by educating, encouraging and empowering young people to be breast aware.
Most people notice their symptoms themselves, therefore, breast awareness is crucial for early diagnosis and the good news is that the charity is seeing an increase in the number of people regularly checking their boobs, pecs and chests.
Early detection is important because if caught early, breast cancer can be very treatable, which is why Giovanna wants to raise as much awareness and funds as possible through taking on this exceptional challenge in Mont Blanc, helping the charity to continue its life-saving work.
CEO at CoppaFeel!, Natalie Haskell, said: "What the trek team does, not only raises vital funds, but also starts the conversations that save lives. By talking about breast cancer, noticing changes in your body and how to check your chest regularly, we are able to help people put their health first and initiate potentially life-saving early intervention. We can't wait to see everyone cross the finish line."
Last year CoppaFeel! raised over £1million across their two treks in Pembrokeshire and the Sahara Desert. This year they are hoping to raise even more to help them towards their mission of ensuring everyone has the best possible chance of surviving breast cancer.
Breast cancer factfile
1 in 7 women will be affected by breast cancer in the UK and around 400 men are diagnosed every year in the UK.
In females aged 25-49 in the UK, breast cancer is the most common cancer, accounting for more than 4 in 10 (43%) of all cases in 2016-2018 (Cancer Research UK)
Breast cancer is the most common cancer in the UK (Cancer Research UK)
Most people notice their symptoms themselves, therefore, breast awareness is crucial for early diagnosis.
If diagnosed early, breast cancer can be very treatable. When diagnosed at stage 1, almost all (98%) of people with breast cancer will survive their disease for five years or more, compared with only around 1 in 4 (26%) people when the disease is diagnosed at stage 4.
More details on how to detect breast cancer can be found on the NHS website.
Sponsored content