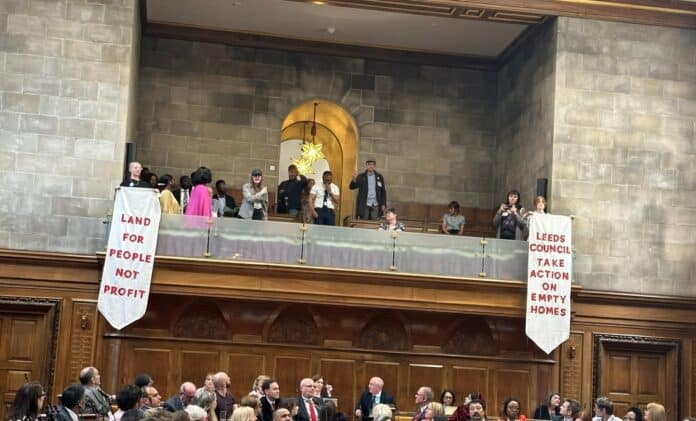 By David Spereall, local democracy reporter
Housing across Leeds is in a "state of chaos" and will get worse without intervention, campaigners who interrupted a civic ceremony last week say.
Members from ACORN Leeds noisily disrupted the city council's annual mayor-making on May 23 to complain about empty homes and housing conditions. One of the banners read 'land for people not profit', while the other said 'Leeds Council take action on empty homes'.
They had last year launched a campaign to tackle specific housing issues in Armley.
Now, in an interview explaining their motives further, the group criticised the Labour administration for voting against the introduction of a second homes tax in March.
At the time, senior Labour councillors said such a move was not yet legal, although the party did commit to considering the idea if and when it becomes lawful.
ACORN describes itself as a community-based union and it tackles social issues on behalf of its members, such as housing, evictions and debt.
The group has also hit out at councillors for, they claim, not responding to their requests for a meeting about Leeds' housing issues.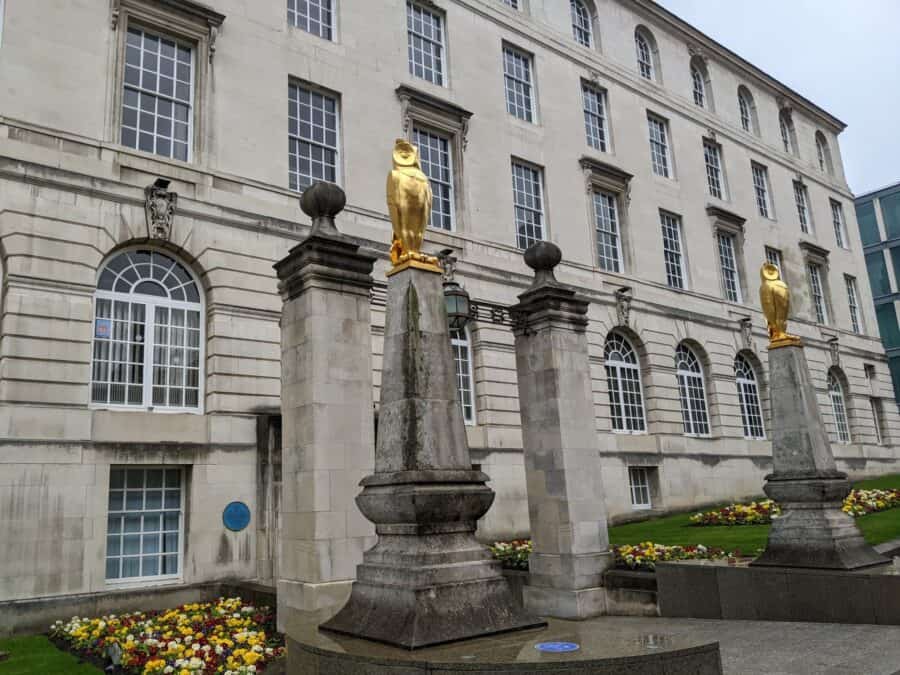 Dave Aldwinkle, one of ACORN Leeds' organisers, said: "Housing is in a state of chaos across the board, both in social and affordable housing and in the private sector too.
"The housing crisis is being felt by everyone.
"We know that Leeds City Council, with the best will in the world, can't solve that overnight, but a second homes tax would be a partial solution to a bigger problem."
The tax, which would effectively amount to a premium on council tax bills for property owners with multiple homes, was debated by councillors at a meeting in March.
The idea was tabled in a white paper by the Liberal Democrats, who suggested the move could raise around £3m in revenue.
Other authorities, including North Yorkshire, have committed to introducing such a tax as soon as they're able to.
Mr Aldwinkle said: "We want that money to be invested in affordable and social housing problems.
"It's been estimated it would bring in £3m, but we believe it could be as much as £4m or £5m.
"It could be used to insulate a block of flats, or build new playground for people living in high-rise buildings, or create new housing stock.
"These are things that would make a massive difference people's lives. There are so many problems."
Councils are expected to be given the go-ahead to introduce such a tax next year if the Levelling Up bill gets Parliamentary approval.
But ACORN said the administration could use the time beforehand to consult with the likes of its own tenants, about how the cash could be used.
Mr Aldwinkle added: "We know they can't bring it in until the Levelling Up bill comes in but they could commit to it now.
"They could commit to it and give themselves an opportunity to engage with people living in high-rise blocks and ask them what they want, what they need and what would make their lives better."
In response, the council's new executive member for housing, Councillor Jess Lennox (Labour), said: "At full council in March the administration did commit to consider charging additional council tax on second homes if and when this becomes law and we are fully supportive of that proposal.
"We have a strong track record of ensuring we take steps to recover all council tax due as allowed by legislation, which is crucial in funding our frontline services.
"For example we have used legal powers to enforce extra charges on long term empty homes which has generated just over £4.4m in additional income in the last three years.
"However, that income is only a small fraction of the £2.5bn cut from council services in Leeds by central government since 2010."