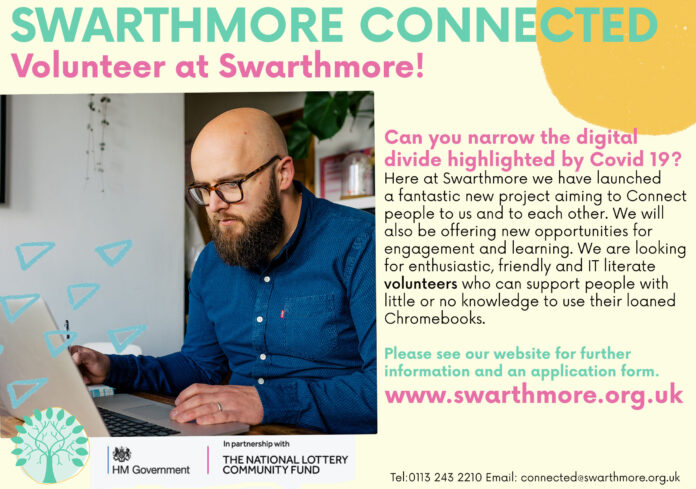 Sponsored Content
Leeds education centre, Swarthmore, is today celebrating after being awarded almost £50,000 in National Lottery funding to support its work with 'yet to reach' students to enable them to connect with online learning.
The centre, based in Woodhouse Square, will use the cash to fund a volunteer co-ordinator, provide a Chromebook loan scheme to those without access to IT hardware, and provide fun and purposeful online activities to those yet to engage.
They will be providing support to ESOL students as part of the project, developing language skills and promoting their online community. Arts, language, employability and well being will be part of their wide-ranging offer, alongside the development of digital skills.
Swarthmore has been providing adult education in Leeds since 1910 and have continued to provide online course throughout lockdown.
The bid will allow them to engage those who have not had the opportunity or facilities to engage with online learning and will reach a new audience for their online offer.
The centre had never offered online learning prior to lockdown in March, yet had a successful summer term, offering over 90 courses via google classroom.
Previous funding from the lottery funded their successful 'Art in Isolation' project, engaging 20 students and culminating in a 'virtual' gallery which is available to view on their website.
The new funding from The National Lottery, which distributes money for good causes and is the largest community funder in the UK, will see online engagement increase, and will provide support through a group of volunteers who will help students new to technology.
At the same time, Swarthmore will be able to improve the wifi at the centre, ready for its re-opening, when it is safe to do so. The project will help them to build relationships with others experiencing the challenges of remote learning and enable them to develop their skills.
Christine Baillie, Director of Swarthmore, said:
"We're delighted that The National Lottery Community Fund has recognised our work in this way. The team have worked hard to continue to offer courses to our students, which moved online in the summer. Now, thanks to National Lottery  we will be able to engage those who are missing out on learning in the 'new normal' of online delivery. This is important because it helps to build relationships with others facing similar challenges and for students to create their own supportive circles of friends and peers, as well as developing digital skills and accessing a range of learning opportunities."