Ever been to the Brudenell Social Club in Hyde Park? Ask someone in Leeds and they'll likely immediately tell you that it's one of Leeds' premier gig venues. Which it is! But recently, it's undergone a bit of a transformation. Now, it is also a haven for amazing beer, as MIKE HAMPSHIRE discovers…
Kirkstall connections
A little bit of history first. Formed in 1913, the Brudenell is a members owned not-for-profit venue. The name is believed to stem from James Thomas Brudenell, Earl of Cardigan and owner of Kirkstall Abbey from 1539.
You'll actually find lots of local references to Brudenell and Cardigan in the Hyde Park and other surrounding areas of Kirkstall, as a result of this. The other notable nearby drinking venue is the recently re-opened, and appropriately named, Cardigan Arms.
The Brudenell's list of past performers is extensive and impressive. Including the likes of Franz Ferdinand and Kaiser Chiefs amongst the well-known acts. The venue primarily supports lots of local promoters and you will see a wide range of musicians and musical styles play there.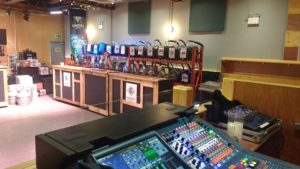 From gigs, to beer
As a club and gig venue, you would be forgiven for thinking that draft and bottled beers would be limited to 'premium' products. Fosters, John Smith's and the like.
I recall the first time I went to a gig there around four or five years ago (the gigs there aren't necessarily to my musical taste, but it is a little embarrassing it took me that long for my first visit to this Leeds institution!). I was pretty pleased to see they had a small variety of cask beers.
On this occasion, Crazy Horse IPA by The Brew Company, at the time a 5.1% IPA (thank you Untappd for reminding me!).
Since then, I've visited a few more times and the range has grown. Not just the cask choice, but keg, bottles and cans too.
At Brudenell over recent years, I've enjoyed beers such as Gamma Ray by Beavertown, Goose Island IPA and India Pale Ale (Citra, Cascade) by Kernel. But, it's not just been the larger regionally/nationally available 'craft' beers, but the small local ones too. Wilde Child, North Riding, Fernandes and, of course, the nearby Kirkstall Brewery.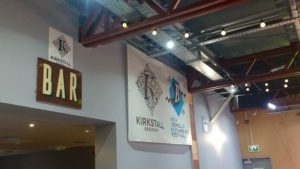 Indeed, the venue has even gone a little step further and, for the last six years, has hosted its own Brew-denell Beer Festival. And, this year saw the festival hosted in the newly built community room that's increased the size of the venue by about a third.
I have to admit as I walked into the new community room for the first time for this year's Brewdenell, it felt like it had just been custom built for the festival.
The space was perfect for this kind of event! Big enough to house the keg and cask bars, whilst freeing up the main gig room for entertainment. Of course, the additional space also provides the opportunity to get more people in to enjoy the beers.
Headline brewing acts
Heavily supported by Kirkstall Brewery and Vertical Drinks, Brew-denell has become an event that is associated with showcasing some special beers from some special breweries. When I attended on the Thursday, as part of a Leeds CAMRA preview and award presentation night, the majority of cask beers were available to try. Sadly, not the keg, but there was so much variety and quality on cask anyway, it didn't matter.
I enjoyed Hirundo by Thornbridge, Beartown's Crème Bearlee, and Kirkstall Brewery's own Drophammer, amongst others. Even though keg wasn't available, I spotted there were beers from Cloudwater, Wild Beer and Verdant, amongst many others.
The Brew-denell festival is just one part of what the Brudenell has become. A lot of that is down to Nathan Clark who runs the club with great passion and care for the venue itself, and the community that it draws. His efforts with beer have now seen the venue win a number of Leeds CAMRA awards.
There is a lot of love for Brudenell!
As the icing on the cake, and showing the beer evolution of the Brudenell, the main entrance sign, once advertising Fosters and John Smith's, now sports a Kirkstall Brewery log instead. A real sign of the times.
If you like gigs, or you like beer, or you like both, then Brudenell is a place you should check out. And, with the Cardigan Arms nearby, you could make a small beer crawl of your trip!
Mike Hampshire is a freelance beer writer and blogs at Mike's Tap Room.