Words: Rhea Bentley
New Wortley Community Association was established in 1982 and registered as a limited company in 1981. The Association was formed in response to the death of a young boy in a road accident outside where the community centre is now.
One of the founders – Bob – explained in the Yorkshire Evening Post:
"There had been a series of accidents on the main road here. The community association had written to everybody but nobody paid any notice. I remember getting off the bus on my way home one time; seeing this little boy's body by the side of the road – he had been hit by a coming truck.

"A public meeting was held and we decided to block the road off, until someone put a pelican crossing there. The community here was solid and united in their cause. So we blocked the road off and the police arrived in riot gear.

"Four of us got arrested, including me. In the end they did put a crossing in, but it shouldn't have taken the sacrifice that it did.

"A lot of the people have lived around here for many years. We recognised that there was a need for a community centre. So we raised the money and through a government scheme we started this place. The association morphed from a campaigning group into managing a community centre; which is an entirely different animal."
This is an example of a community coming together to improve their environment. Community spirit is at the heart of what New Wortley Community Centre tries to maintain for the area.
It's a spirit that has been diluted and lost over time as our lives have been reshaped and cajoled into modern life by technology, finance and commercialism; out-of-town shopping has replaced the chance to go to the local iron mongers, the butchers and the bakers and catch up with the neighbours.
'Concrete hutches'
Financially, affordable housing has isolated us in concrete hutches. Entertainment has all but disappeared as cinemas and dance halls have given way to anonymous multiplex entertainment centres in far-off retail and entertainment parks.
Kids no longer play in the streets, women no longer talk over the shopping lines that webbed between neighbour's houses. Gamestations cocoon our youth into their bedrooms, and typing into their mobile phones in some strange new language, is deemed to be participating in social activity.
Ok so I'm old and I might have old-fashioned ideas and hark back to the past. I concede not everything was quaint and rose tinted.
New Wortley and Armley were working-class areas with poor healthcare, unemployment, poor working conditions. During the nineteenth and first half of the twentieth century communal toilets, poor sanitation and the smog-filled air contributed to many diseases in particular chronic lung disease and cardiovascular disease among others.
Cleaner air, better nutrition and a fall in smoking numbers has improved things, but even in a public health survey in 2014 the area was still below the national average for health conditions.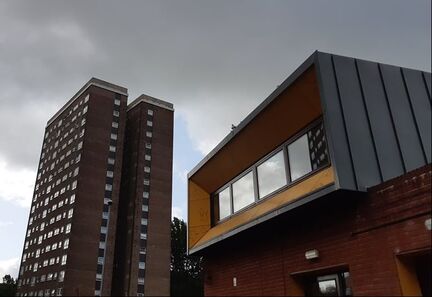 I moved into Wortley Towers in 1981, probably just before NWCC was formed. For many years I kept myself to myself and had very little to do with the centre or even anyone in the local area. I spent my days at work and, like a lot of people, I locked myself in my flat when not working. I'm not certain if the NWCC building existed before 1982 but I've been told that it may have been a council property before that.
My memory of those early days were that the flats were filled with predominantly white English people whose ancestors may well have lived around here for years in the rows and rows of terraced housing that was demolished in the 1960's national slum clearance schemes.
There was a much broader range of ages in the flats but towards the end of the 20th century things began to decline rapidly. Drugs, gang culture and alcoholism become much more prevalent. It seemed the council treated the flats like a halfway house between prison and oblivion, housing all the bad eggs in one basket.
Drugs den
By 2004 I was living next to a drug den that made my life so miserable I took to sleeping rough in my car. Fires were two or three times a week, fights in the carpark were common I even saw swords being waved about. The housing manager's car was blown up. It would seem that about that time the council had decided enough was enough.
According to a Community Safety Action Plan produced in 2004 many of the problems of the area were to be addressed with the collaboration of police, West Leeds Housing, residents, schools and places like NWCC. At the time I was unaware of this but it did become clear that things started to improve over the next few years.
The demographics of the area began to change with an increased mixture of nationalities. Instead of having people who treated the flats like party town for anti-social behaviour, we now have people living there who are happy to have a home and respect their neighbours and their surroundings.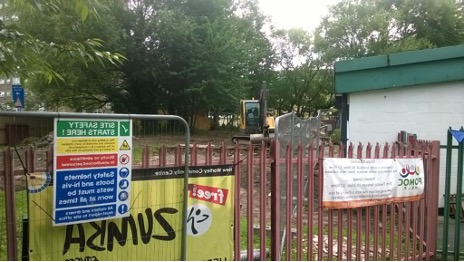 In 2015 The Big Lottery Funding granted money for a new centre to be built alongside the existing building.
Academics, Simon Warren and Craig Stott (pictured above), led the New Wortley Community Centre (NWCC) project every step of the way since plans began in 2009, before taking it on as their first major commission after founding the University's Project Office back in 2013.
Guided by Project Office, Leeds Beckett University's School of Art, Architecture and Design (AAD) students were also instrumental.
The Project Office had been named as one of two winners in the 'Live Projects Network' category of the prestigious 2017 Social Economic Environmental Design (SEED) Awards.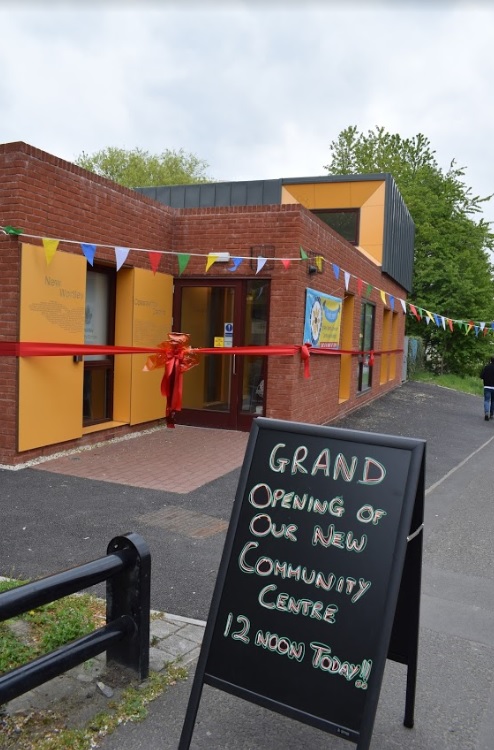 The covid pandemic has had a massive effect on the centre and the services that could be offered to the community.
While group social interactions were decimated, NWCC continued to help the community come through the worst with various means of support, including the food bank.
NWCC has now begun to rise in the pandemic's wake and with the hard work and dedication of staff, volunteers and the community it can once again become the beating heart of the people it serves.