Pudsey-based Building Futures Together helps pupils who are not engaged in the school curriculum and steer them away from crime, anti-social behaviour, exploitation and becoming NEET (not in education, employment or training) by pointing them towards a positive alternative future.
Community reporter JOSIE ARMITAGE attended the Building Futures Together (BFT) launch.
It was great to see how far BFT have travelled since January 2020 when they set up.  
It was lovely to talk to people from schools and construction/services businesses who couldn't speak highly enough of the impact that the support from John and Jack has had on their students.
BFT was created by John Thornton, Darren Hamer and Graham Kelly to engage, encourage and support young people aged 13-18 to consider the construction industry as a career.
They collaborate with G&H Group and have a facility in a real business setting where young people can take part in vocational mechanical, electrical and plumbing sessions in a positive and enjoyable learning environment.
The setting offers a place for young people to learn and socialise with people of similar ages, create long-lasting friendships and reduce the fear of social anxiety.  
BFT work with schools and partners in Leeds and Bradford including Crawshaw Academy, Oastler Academy, Aspire Park Primary PRU, Springfield Community Centre in Bradford and recently with HMP YOI Wetherby.  
Their sessions give young people the confidence to learn by taking part in Plumbing and Electrical activities, learning about teamwork and taking individual responsibility, which develops their confidence and self-esteem. They have directly engaged and offered 336 sessions between March 2021 and February 2022.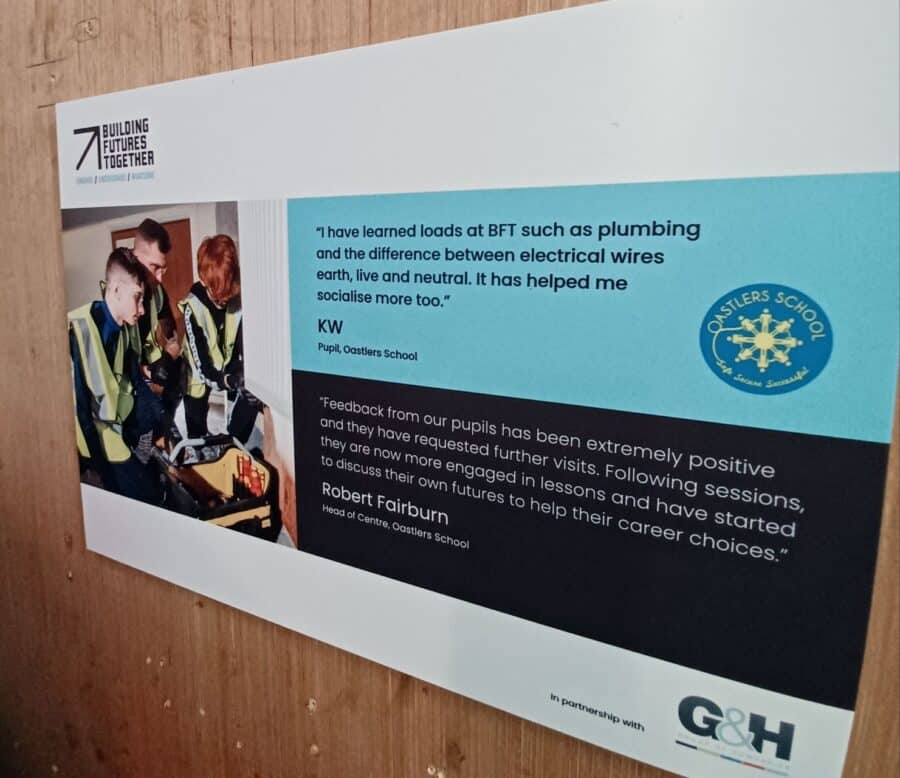 John Thornton, managing director said: "Recently we were delighted to hold the first event at our purpose-built facility in Pudsey.
"It gave us an opportunity to thank everyone who has supported us and showcase our programme, collaborating with others to offer vocational learning opportunities for young people. The event has since received great feedback and we will certainly do it again in the future. 
"More recently we received feedback from a member of staff at Leeds Building College. They have received an influx of applications to join their plumbing and electrical programmes whilst referencing Building Futures Together in the application process. 
"Our partners G&H Group regularly show clients around the facility and feedback again is excellent. Our aim is to create a pathway in employment for young people. After our support, we are confident that a college or employer will gain a young person who is eager, dedicated and ready to take the opportunity."
If you work at a school where your students could benefit from Building Futures Together support or are a business that wants to be part of this exciting journey, contact John Thornton at john@buildingfuturestogether.me to find out more. 
Sponsored content