Continuing our occasional posts on being a #hometourist and exploring what's on your doorstep in west Leeds this summer, our latest post features the fabulous Post Hill, on the Farnley/Pudsey border. So what have the Yorkshire Post, motorbike scrambling, Murray Walker, an Italian POW camp and anti-aircraft guns got to to with West Leeds?
Here are five reasons you should explore it today:
1. Great history
Post Hill has a rich history!
At its heart is a steep (in places) cobbled road. People often call it the 'Roman Road', which is crackers! Here's the proper history via  "A Portrait of Farnley" by the Farnley Local History Group:

"In 1925 Leeds Motor Club were looking for land on which to construct tracks for speed and freak climbing conditions. A Mr. Fred Langton "discovered" the hill, and the Yorkshire Evening Post arranged to purchase the land, and present it for the permanent use of the Leeds Motor Club, as a centre for motoring events.

"Officials of the club announced that as a compliment to the Yorkshire Evening Post the hill would be named Post Hill. The site was cleared of shrubs and small trees and there was ample stone to lay a rough track. The inclined length of the hill is 527ft and rises 200ft. The steepest gradient is 1 in 1.6

On 24th July 1926 the hill was formally presented to the club by Mr. R. R. Whittaker, editor of the Evening Post. Sir Charles Wilson, MP, officially declared the hill open. There was an estimated crowd of 10,000 spectators when racing began"
So there you go, it's named after the Yorkshire Evening Post! Check out this 1929 video of one of the events – 20,000 people in attendance!
Post Hill was used in the 50s and 60s for "scrambling" (now known as motocross,) and regularly appeared on the BBC on Sundays – the commentator was the legendary Murray Walker. It was also used for stock car racing – in the 70s and 80s an old stock car  crashed into Pudsey beck at the bottom and I remember it was there for years!
Quarrying also took place there and you can still find the abandoned stone quarries even now.
During the war the top of Post Hill played an important role – an open prison camp was built and held Italian Prisoners of War, who were allowed to work for the local community but had to be back in camp for the evening curfew. The camp also housed two anti-aircraft guns – I still remember exploring the enormous concrete structures as a child in the late seventies before they were removed. Nothing remains of it now – the area is now a farmers field with horses and cows grazing.
Did you know they wanted to build a ski slop and toboggon run on the site?
History lesson over – interesting, though, isn't it!?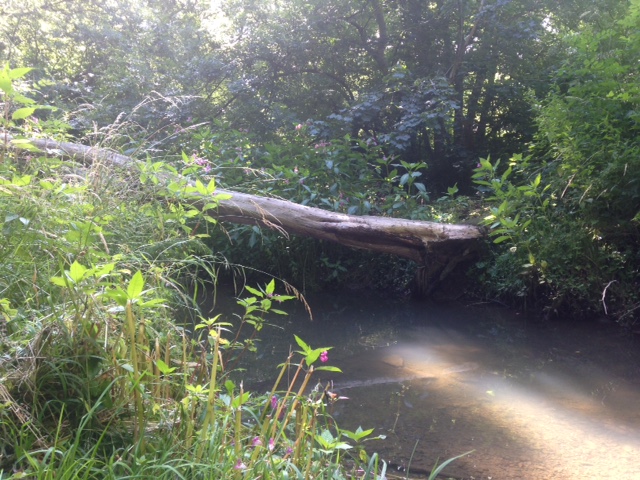 2. Great views
Great views from the top of the hill over to Pudsey and Bramley. You can pick out 'old Anna' and Pudsey Parish Church quite clearly.
3. Pudsey Beck
Spent many a happy hour as a child building dams and stepping stones here. It feeds  into Farnley reservoir before continuing its journey. Yes, I've seen fish in there too!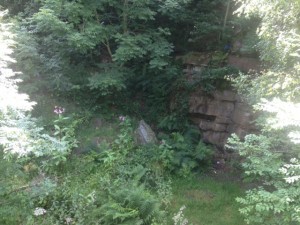 4. Wildlife
Squirrels, rabbits, foxes, bats, different birds species … you name it!
5. Peace and quiet (well, most of the time) and great walks

I visited early last  Saturday morning – there was a couple of dog walkers and cyclists making the most of the summer sun and that was it for the hour or so I was walking around. It was lovely and quiet (although there are monthly motorcycle meets, so you may want to avoid them if that's not your thing!). The woods themselves offer a myriad of paths – but as the area is part o the West Leeds Country Park there are adjoining walks you can take advantage of, such as the nearby Nan Whins Woods (Tong Cockersdale area).
Do you have a favourite #hometourist destination in west Leeds? Write us a post and/or send us some photos! Email us news@westleedsdispatch.com.