West Leeds Dispatch has released its latest printed newspaper this week – and it's packed full of the latest news and views from your neck of the woods.
Our latest 16-page issue puts the spotlight on there cost of living crisis and how the community is rallying to help others. It also features lots of people doing good things in their communities and highlights the success of community led Bramley Baths.
You can pick up your FREE copy at:
Armley
Armley Helping Hands, Strawberry Lane Community Centre
New Wortley Community Centre, Tong Road
Armley Community Hub, Stocks Hill
Bramley
Bramley Baths, Broad Lane
Broadlea Community Centre, Broadlea Hill
Bramley Community Centre, Waterloo Lane
Bramley Lawn, off Rossefield Approach
Bramley parkrun/Junior parkrun
Bramley Community Hub
Copper Tree Hub
Dillons Off Licence
Hair & Beauty
Black Lion Pub
Nisa Off Licence
Villagers
Full Circle Funeral Parlour
Irish Health & Homes – Relocated from bottom Chapeltown Rd approx. 12 months ago.  Supports vulnerable Irish in Leeds.
Barca (Northside) 
Hollybush – Some interesting workshops going on there; Christmas Fayre etc coming up
Kate Elizabeth Field Funeral Directors
Nisa Off Licence
Pizza Express
Raynville Superstore
Burley
Seagulls, Kirkstall Road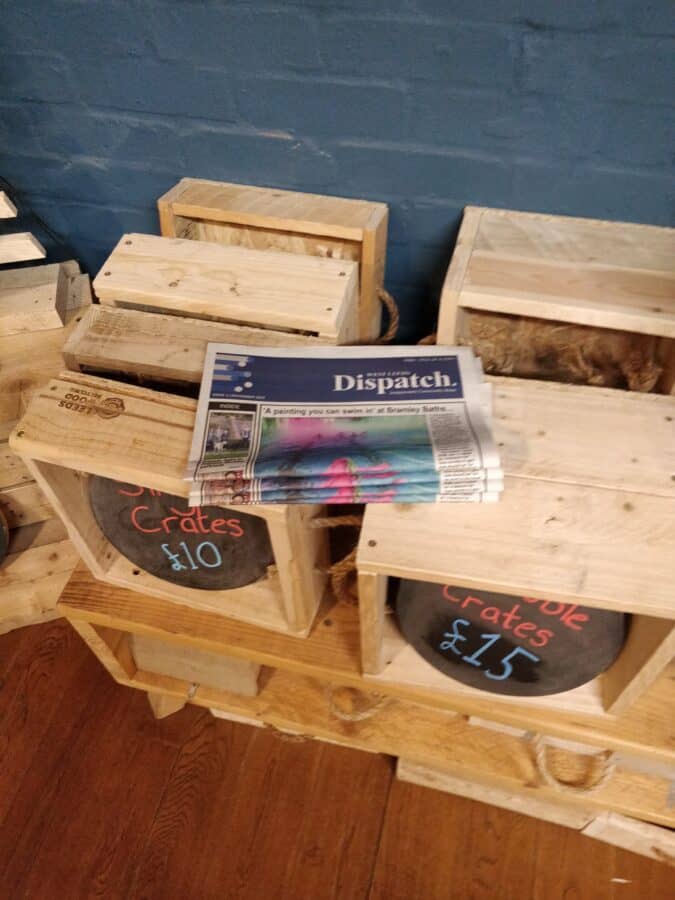 Calverley
Calverley Post Office, Carr Road (date TBC)
Calverley Library, Thornhill Street (date TBC)
Farnley
Farnley Community Centre, Cross Lane
Farsley
Truman Books, Town Street
The Nest Bar, Farsley Celtic FC
Sunny Bank Mills
Farsley Library/community hub
Kirkstall
West End House, Abbey Road
Butler's, Kirkstall Forge
St Stephen's Church Hall, Norman Street
Kirkstall Leisure Centre
Pudsey
Pudsey Community Hub/library
Pudsey Wellbeing Centre (from Thursday)
Pudsey House
Swinnow Community Centre
Authentic Greek Food, Manor House Street (from Thursday)
Pudsey Community Project, Fartown
Rodley
The Owl pub
Wortley
Lower Wortley Community Centre
St John's Church
The Queen, Oldfield Lane
and…
Leeds Wood Recycling, 24 Croydon Street, Holbeck, Leeds LS11 9RT.
… and more to be announced.
We have a small number of papers left, e-mail us at news@westleedsdispatch.com if your business/community organisation can help us distribute it.
Sponsored content