The first annual All Together Armley Easter festival delivered an 'egg-ceptional' day of fun for both young and old at St Bartholomew's Church on Easter Sunday – including over 20 stalls from painting to pop-pom making, writes Briony Axe.
The festival – organised by community group All Together Armley – allowed Armley residents to meet new friends as well as old acquaintances, whilst indulging in arts, crafts and treasure-hunting.
One such activity for attendees to get involved with was decorating daisy chalk boards in preparation for display around Armley, including messages urging residents to keep the community tidy.
One attendee of the festival was particularly pleased with the choice of location as she revealed that it was at St Bartholomew's church that she and her husband were married sixty years ago. She even brought a photograph taken outside the church on her wedding day to show to other festival attendees.
Another feature of the festival was local ceramic artist Sophie Rose Gornall, who ran a plate decorating workshop. Ms Gornall encouraged residents from all walks of life to respond artistically to words written on a ceramic plate. She reflected afterwards:
"It was great to work with the people of Armley in this amazing church as part of my final project at uni."
In addition to the arts and crafts on offer, an Easter treasure hunt proved very popular with the children, whilst also giving the Mums and Dads a chance to learn about the history of the incredible church, which is famous for its grade II listed organ built by renowned organ builder Edmund Schulze in 1869.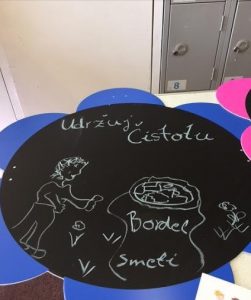 One All Together Armley volunteer said:
"It was fabulous to be able to offer free entry to make sure as many people as possible could attend and it was kind of Father Michael Wood to give us access to the Church."
Glenn Broadbent, curator of the festival said:
"This is the first All Together Armley Easter Festival, but we are hoping it will now be an annual event."
Proceeds from all of the traders will be donated to the church funds, in order to help St Bartholomew's continue the work that they do within the community, aiding cohesion and inclusivity.

For more information about All Together Armley and their upcoming projects, find them on Facebook.