October heralds a special time of the year for communities, writes Jim Corah. There are festivals and events were communities come together to celebrate and to remember, to share and to connect.
First and foremost for Kirkstall in Bloom, October heralds our winter preparation. Over three sessions, the final one being Saturday 3rd November 2018, our volunteers are turning over beds, removing leaves (so many leaves), and planting for winter.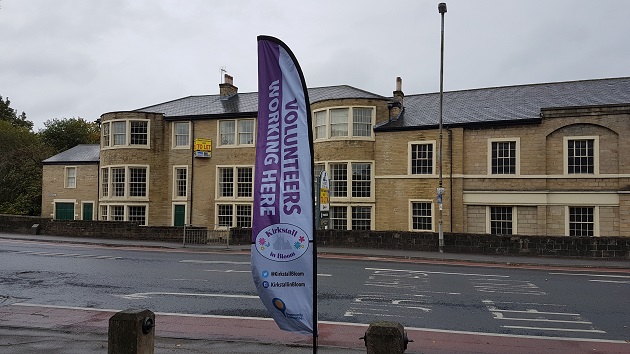 For me, this means planting bulbs, from which my most favourite plants grow.
October is also the time we turn our attention to Kirkstall Cenotaph. After a few years with established plants in the planters we decided to refresh them for the centenary of the Great War. This was part of a project funded by the Leeds Inner West Wellbeing fund.
Here are eight pictures from weekend:
Picture One
Kirkstall in Bloom sessions are always socialable events, volunteers Hannah and Iola catching up. The large grass in the planter took a good thirty minutes to come out.
Picture Two
While clearing out the plants, we were able to reuse a lot of the plants and bulbs in our other beds.
Picture Three
Our tools, plants, compost, and most importantly (though not in shot) numerous flasks of hot squash.
Picture Four
Half way through, plants removed and bulbs sorted. During this stage we found a buried pet – while not a typical memorial ground if you did bury a beloved pet at the Cenotaph we took care of it.
Picture Five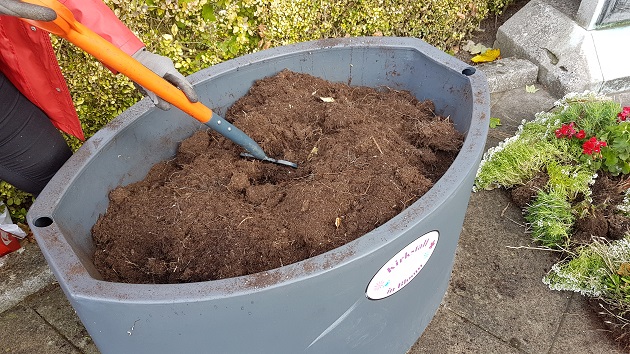 Turning over the soil so that it gets air.
Picture Six
As we are planting the Cenotaph, our bulbs were selected for their white or red flowers. This pattern was repeated across all six planters.
Picture Seven
A layer of soil over the bulbs so that we can plant plants. Each planter had either a red or white rose and a number of plants. One of the comments of Yorkshire in Bloom judges of Kirkstall in Bloom's gardens in 2017 was that some of our beds were low on soil, so we've managed to get 480litres of compost in the Cenotaph planters.
Picture Eight
The Drink and Be Grateful Fountain Garden had a session on Sunday 29th October 2018 with Winter bedding, replanting grasses and plants from the Cenotaph.
Volunteers are always welcome at our sessions. On Saturday 3rd November 2018 we'll be at the Drink and Be Grateful Fountain Garden, starting at 1030am. We value enthusiasm over experience, we are friendly and welcoming, and we'll provide tools, instructions, food, and warm squash.
Kirkstall in Bloom would like to thank our volunteers for some absolutely awesome work this weekend, including some excellent sweeping. Leeds Inner West Committee supported our projects through this year's Wellbeing grants, and Kirkstall Retail Park were fantastic in letting us have water for our plants.