Businesses in Stanningley are facing major disruption to trade – with some owners fearing for their  livelihood due to work on the £29 million Cycle Superhighway, writes Lily Marchesi.
The work towards building the bespoke cycle lane between Leeds and Bradford has involved digging up sections of Stanningley Town Street to resurface the road.
Traders say the work has impacted greatly on parking in the area, with one trader fearing he may have to close.
Andrew Bennett, owner of Bennett's fisheries, told West Leeds Dispatch that the work taking place outside his shop is affecting the passing trade he relies on to stay open. He said:
"The lack of parking is the biggest concern and has resulted in a 50% loss in trade for us.

"Last week I had to buy all my stock using a credit card and I've had to borrow money to pay my rent. If something doesn't change, I'm going to have to close for good."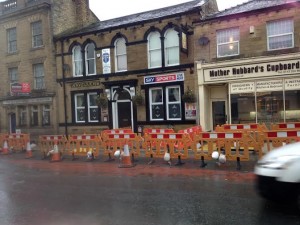 Mr Bennett, along with other local business owners, say they have made suggestions at various consultation meetings about the project but don't feel like their parking concerns are being  listened to.
Paul Campey, of Archway Tyres, admitted business has been a lot quieter since work started on the road and after the path outside his garage had to be resurfaced. He said:
"Luckily we haven't been hit too hard as we have a lot of loyal customers but it's frustrating that the plans keep changing from the original drawings set out and agreed."
Mr Campey claimed shoppers were avoiding the area due to the roads often being gridlocked.
He added: "This road has always been notorious for traffic, with hundreds of cars passing through every half hour. But the roadworks have made it even worse and now there's less places for customers to park!"
Issues surrounding communication in the project was raised at a meeting in Armley last week when local residents and business owners met with representatives of Leeds City Council. Oliver Priestley, head of engineering projects at the council, recognised that there have been issues regarding information being passed on.
Ginny Leonard, from the City Connect Scheme, said they had worked closely with both residents and business owners during the design and delivery of the scheme. She said:
"We appreciate that there is disruption to residents and businesses as a result of the current improvements to Stanningley Bottom, but we believe that these works will improve the area and bring about economic growth.

"We have already been complimented on the works so far by some locals.

"We have worked closely with both residents and business owners during the design and delivery of the scheme and sought to accommodate parking and access needs during the build process and within the final scheme.

"We have addressed long-standing parking problems, including blind spots and pavement parking and will be introducing parking restrictions to improve the turnover of spaces for local businesses.

"In addition to this we are also adding more spaces in Stanningley Bottom car park and improving the signage and visibility.

"Finally, we will look to support businesses to help them capitalise on people accessing the area by bike."
The cycle superhighway aims to encourage more people to take up cycling and make it a popular alternative for commuters. It also aims to build on the legacies of the Tour de France, which held its Grand Depart in Leeds last year, as well as helping to cut pollution by reducing the number of cars on the road.
Stanningley Town Street is temporarily closed on Sundays while construction work is carried out.
What do you think? Have your say in the comments below.