Leeds City Council is set to roll out improvements to eyesore bin yards across the city – including West Leeds – following a successful pilot scheme in Holbeck.
A report to the council's Executive Board next week recommends spending £247,500 on improving 45 yards across Leeds. If these are successful the programme will continue to tackle all the 696 problem bin yards identified in the report.
106 problem bin yards are in Armley, with two in Kirkstall and Bramley and Stanningley wards.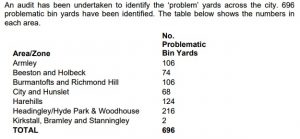 Anyone who's lived in the inner city will be familiar with the problems of bin yards – the former toilet blocks for back-to-back houses.
The space is shared between up to eight households to manage and is often a magnet for fly-tipping and other anti-social behaviour.
Various solutions have been tried over the years from periodic clearing to reducing the wall heights and installing railings and gates, but none of these have worked long term.
As reported by South Leeds Life in August 2016, an  initiative was trialled  in the Recreations area of Holbeck. This involved securing the yards, moving the walls back and providing communal waste and recycling bins secured in frames (pictured above). The report states:
"The approach has delivered real improvements in the quality of the local environment."
The approach removes space that can be used to dump and solving the problem of wheelie bins having to be left in shared space, or more often left on the pavement.
The report adds:
"Enforcement powers are [currently] used where possible to force residents and landlords to take ownership and deal with some of the yards, but in reality the shared nature of many of these yards make this exceptionally challenging, very resource intensive and usually with work done in default/at risk by the Council anyway."
Leeds City Council's Executive Board meets on Wednesday 21 March 2018. You can read the full report here.