Campaigners plotting a community takeover of the historic Cardigan Arms pub have been approached by Kirkstall Brewery to become a partner.
The independent brewery has offered to partner with not-for-profit community group The Cardigan Arms Communities Pub Ltd in their bid to take over the Kirkstall Road pub.
The group's bid to buy the pub – one of the top 200 heritage pubs in Britain – was launched after current owners Greene King put the building up for sale for £295,000.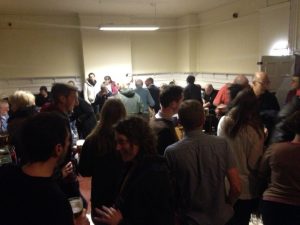 Campaigner Chris Hill said head of Kirkstall Brewery Steve Holt first approached the group a fortnight ago and further discussions had been held this week.
A public meeting on Thursday, February 9, will decide whether to press ahead with the partnership.
Mr Hill said:
"We need to decide quickly how we are going to progress. Steve will talk to the meeting about how he sees a partnership working and then will leave us to discuss how we want to proceed. This will be a key decision-making meeting, so I hope you can attend."
The Cardigan Arms Communities Pub Ltd meeting will be held in the pub at 7.30pm.
As previously reported, a public meeting attended by 75 people last month gave its support to the possible community buy out of the Grade II Listed pub.
The group is applying for £150,000 towards the scheme from the Plunkett Foundation, which supports communities to set up and run community co-operatives, with the aim of raising a total of around £350,000.
Kirkstall Brewery, which can trace its heritage back to the 1800s, is situated on the side of the Leeds Liverpool canal near the student accommodation of the same name. Last year it submitted plans for a new larger facility at the site of a former milk distribution depot on Kirkstall Road.