A packed public meeting gave enthusiastic support to The Cardigan Arms becoming Leeds's first community-owned pub.
About 75 people packed into the the Grade II listed pub off Kirkstall Road, which is one of Campaign for Real Ale's top 200 heritage pubs in the country.
They gave their support to a £350,000 appeal which is already off to a flying start after one man at the meeting pledged to donate the final £10,000 of the appeal.
And campaigners said they'd had positive conversations about a £100,000 grant via The Plunkett Foundation, which supports communities to set up and run community co-operatives.
The pub, which was once visited by Buffalo Bill while appearing in his Wild West Show on Cardigan Fields in 1904, is currently owned by pub company Greene King, who are looking to sell the building for £295,000.
An open day at the pub this week apparently attracted 15 interested parties, but because it's listed as a 'community asset', the community has six months to raise enough money to buy it outright.
Campaigner Jim Brettle, who is also a member of civic watchdog Leeds Civic Trust, said the pub had huge historical significance for Leeds and beyond, as it retained many of its original features including the bar, stables and a brew house. He said:
"An ordinary commercial business plan will not save this pub – it will end up as flats. It needs an imaginative business plan, become a real hub for the community. Perhaps bringing the events room back into use, or running sports teams – we can be imaginative without gentrification."
Fellow campaigner Chris Hill said structural surveys needed to be carried out on the historic building and that the fundraising wouldn't start until March when the full extent of costs would be known.
He said he was hopeful of raising the money through crowdfunding online, running local events and applying for grants but there was a lot of work to do that would require the support of everyone in the room.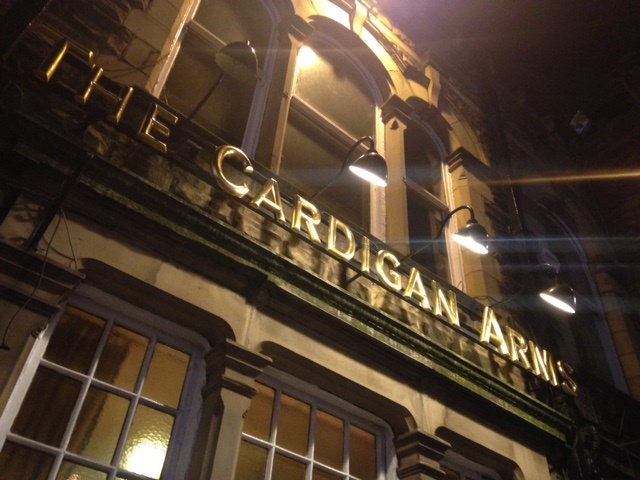 Campaigner and Kirkstall resident Sam Meadley said:
"I can't believe how many people have attended the meeting tonight – it's overwhelming! It's good to show that there is real community interest in saving the pub, but right now it's not serving community need. If we can harness the people here, we can make this a success. It oozes potential."
Kirkstall councillor Lucinda Yeadon, who attended along with fellow ward members John Illingworth and Fiona Venner, said it was important that Greene King knew about the community movement to buy the pub and suggested people start to write and lobby the company 'to tell them what this community wants'.
She added:
"They need to know that if they went elsewhere [for a new owner] it would not be welcome."
The campaign will meet again soon to start to formalise its plans for fundraising, updates are available on the Cardigan Arms Community Pub Facebook page or @cardigan_arms on Twitter. A campaign website will launch next week.