There's no doubt these are unprecedented times – but for every act of selfishness or ignorance you hear of, there are even more acts of random kindness and generosity from strangers, writes John Baron.
The community in West Leeds is doing some unbelievable stuff – ordinary folk stepping in to help neighbours and strangers alike as the Coronavirus pandemic isolates more and more people.
It's easy to get swept away by the doom and gloom, but I thought it important the Dispatch share some of the great things, for example …
Sarnies in Swinnow
Generous volunteers at Swinnow Community Centre are preparing and distributing sandwiches to local children at the gates of the centre all next week to help thos in need now school has closed. No questions asked, runs 12am-2pm.
Volunteers are also delivering packs with essential food and supplies for older people who can't get out. If you know an elderly person in Swinnow that need them, please call 0113 2566576 and leave details.
Social distancing scavenger hunt in Farsley
Villagers in Farsley are holding a social distancing scavenger hunt, following an idea posted on social media. Tamsin Kingsley said:
Many of us are or will be taking walks with little ones to get some exercise and fresh air while social distancing. Why not put a heart ❤️ in your front window – kids can have fun looking for hearts and spotting new ones pop up.

"It can be a way to show our community that we care for each other in these times when we might not be able to say it face to face. Might seem cheesy but my 4 year old for one would love it! I'll be putting together some heart decorating kits for some sticking fun."
Free masks in Armley
In order to support older members of the community, Jamali on Armley Town Street are offering free face masks to Armley people aged over 70.
Free beer in Farsley
The Constitutional Club in Farsley Town Street yesterday offered a free bag of crisps and beer takeaway for members, regulars and donators. People brought they're own sealable containers.
Armley's Polish bakery supports older residents
Armley Helping Hand team will be calling its members tomorrow to see how you are and offer you the opportunity to order fresh bread and a food bundle to be delivered on Tuesday. Generous owners at Town Street's Karpaty Bakery are offering cut price bread to AHH members in Armley and Wortley during this crisis.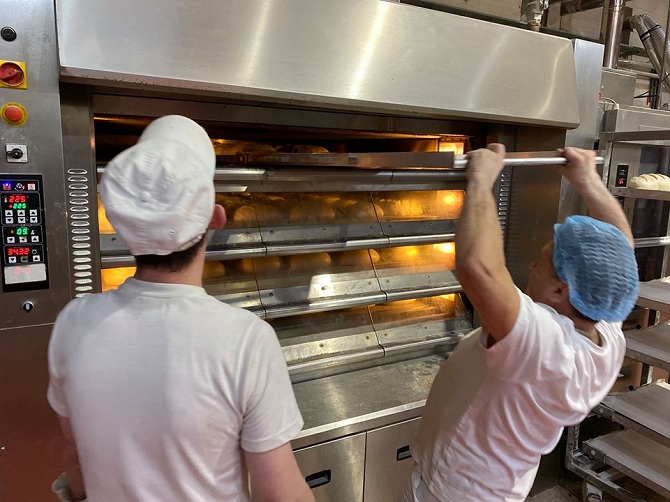 Community support groups in Armley & Pudsey
Communities are mobilising via Facebook to help people who cannot get out due to self isolation and who are vulnerable. The group in Armley can be found here. A support group called Pudsey Community Project can be found here. 
Baths donates to food bank
Bramley Baths has donated most of the the contents of its vending machines to the local foodbank.
Bramley volunteers help with shopping
Volunteers co-ordinated by Bramley Elderly Action are helping to deliver food to older people:
Shopping deliveries to local older people started today. Phone support is here mon-fri 9-4pm. 0113 213 1644. Big THANKYOU to our volunteers, and to BEA members, for their calm resilience. Most we've spoken to are more concerned for other people than for themselves. pic.twitter.com/4TiWzUcm07

— BEA (@BramleyElderly) March 20, 2020
Pudsey restaurateur cooks at home
When Pudsey's Jordan Robert Mcdarby closed his restaurant this week, he decided to make the most of his skills and turn his kitchen at home into a support service for older and vulnerable people.
Posting on Facebook's Pudsey, Swinnow and Tyersal Community news and Events page, he wrote:
"… I will be making soups and some basic meals – lasagne, curries and that sort of thing. If anyone needs them I will be charging as obviously I am not a rich man but I want to do something a) to help people less fortunate and b) to keep myself sane

"Anyone who is interested please message pass this on to whoever u think might be interested. There will be cost but not excessive I'm not a millionaire, it will just to cover cost of produce and creating meals. Much love stay safe x "
Kirkstall help leaflets
Kirkstall councillors are working with volunteers at Kirkstall Valley Development Trust and support groups to get a leaflet out to every house in Kirkstall and Burley.
This will include contact details for frontline organisations to make sure that people who need help can access it. If you can help to deliver the leaflet later this week, contact Hannah.bithell@leeds.gov.uk.
Chocolates in Bramley
Leeds West MP Rachel Reeves has sent a thank you card and some chocolates to staff working in medical centres in Bramley.
Free crafts for children
Free children's gift bags
Armley-based Fabrics for All shop is giving away free children's craft bags. Perfect to make pictures, doll clothes, little quilts and hand sewing projects.
They can be collected from the shop on a first come first come basis and one per household until 3pm today (Sunday).
Help us highlight good people doing great things!
Help The Dispatch highlight some of the great things people and businesses are doing in West Leeds during this crisis. Drop us a line at news@westleedsdispatch.com with all the details (photos welcome) and we'll do our best to shine a light on them.